School of Nursing Graduate Will Practice Cura Personalis as a Newly Commissioned Naval Officer
Pictured Above: On May 22, during a ceremony at the Jefferson Memorial, Sarah Bryant (N'23) and the rest of her class took the Oath of Commissioned Officers from Gen. Eric Smith, the Assistant Commandant of the Marine Corps.
(May 22, 2023) — Sarah Bryant (N'23) knew at a young age that she wanted to be both a nurse and naval officer. Georgetown gave her the opportunity to pursue both passions while putting into practice the Jesuit value of cura personalis, care of the whole person. Bryant was commissioned May 22 as an ensign in the United States Navy during a ceremony at the Jefferson Memorial.
In grade school, Bryant wrote a letter to her future self saying that she expected to join the Navy after college. "I also always knew that I wanted to be a nurse," she said.
When applying to the School of Nursing, Bryant also applied for a Naval Reserve Officer Training Corps (NROTC) nurse option scholarship. She has been a midshipman in the Capital Battalion Naval ROTC unit for the past four years. "ROTC has provided friends that will last a lifetime," said Bryant.
The School of Nursing has prepared Bryant to pass her vocation's technical requirements, as well as instilling in her the Georgetown value of cura personalis.
"The School of Nursing had a huge emphasis on cura personalis, which I see myself putting into practice with future patients by remembering the specific tendencies or preferences they may have, even if it's a small thing such as preferring Jell-O over pudding," she said. "Remembering these little things makes me aware that I'm treating a whole person."
Next Stop: Guam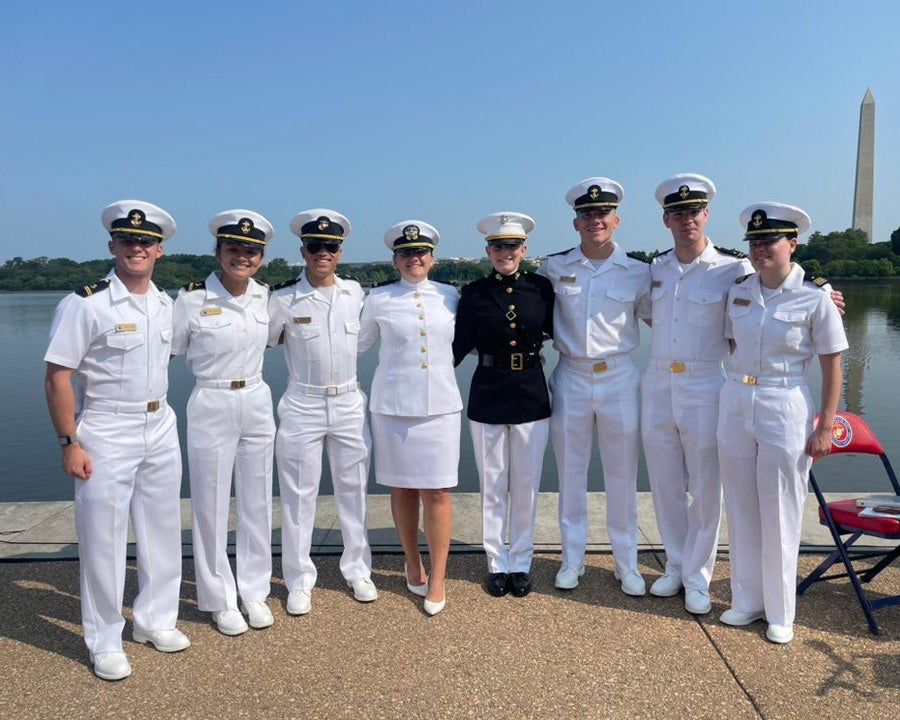 Bryant recently received a call letting her know her first duty station will be at the Naval Hospital in Guam. Before she can report, Bryant must pass the registered nurse licensing exam, known as NCLEX.
After experiencing what life is like on an aircraft carrier during a 12-day cruise in 2021, Bryant hopes to make it out to sea for deployment. "I was able to shadow the medical department onboard and learned what life looks like on the ship," she said. "It just confirmed my hope to be deployed one day."
Reflecting on her commencement weekend, Bryant expressed optimism regarding her post-graduate life. "I can't wait to get to work," she said.
Heather Wilpone-Welborn
GUMC Communications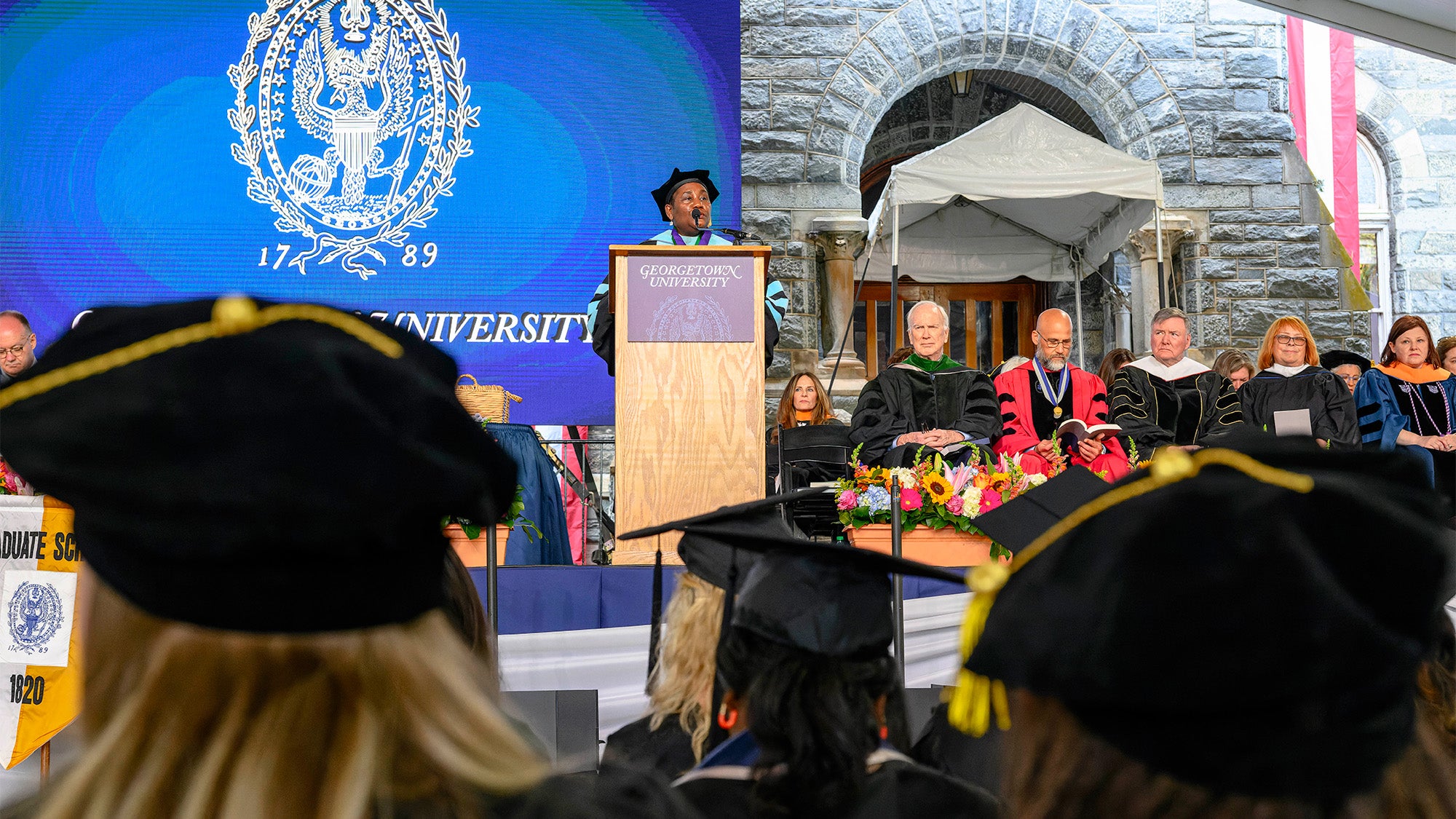 News Story
School of Nursing Celebrates Its First Class of Graduates
Surrounded by hundreds of their friends and family members, the first 341 graduates of the newly formed School of Nursing gathered on Healy Lawn to celebrate commencement for the Class of 2023.
May 22, 2023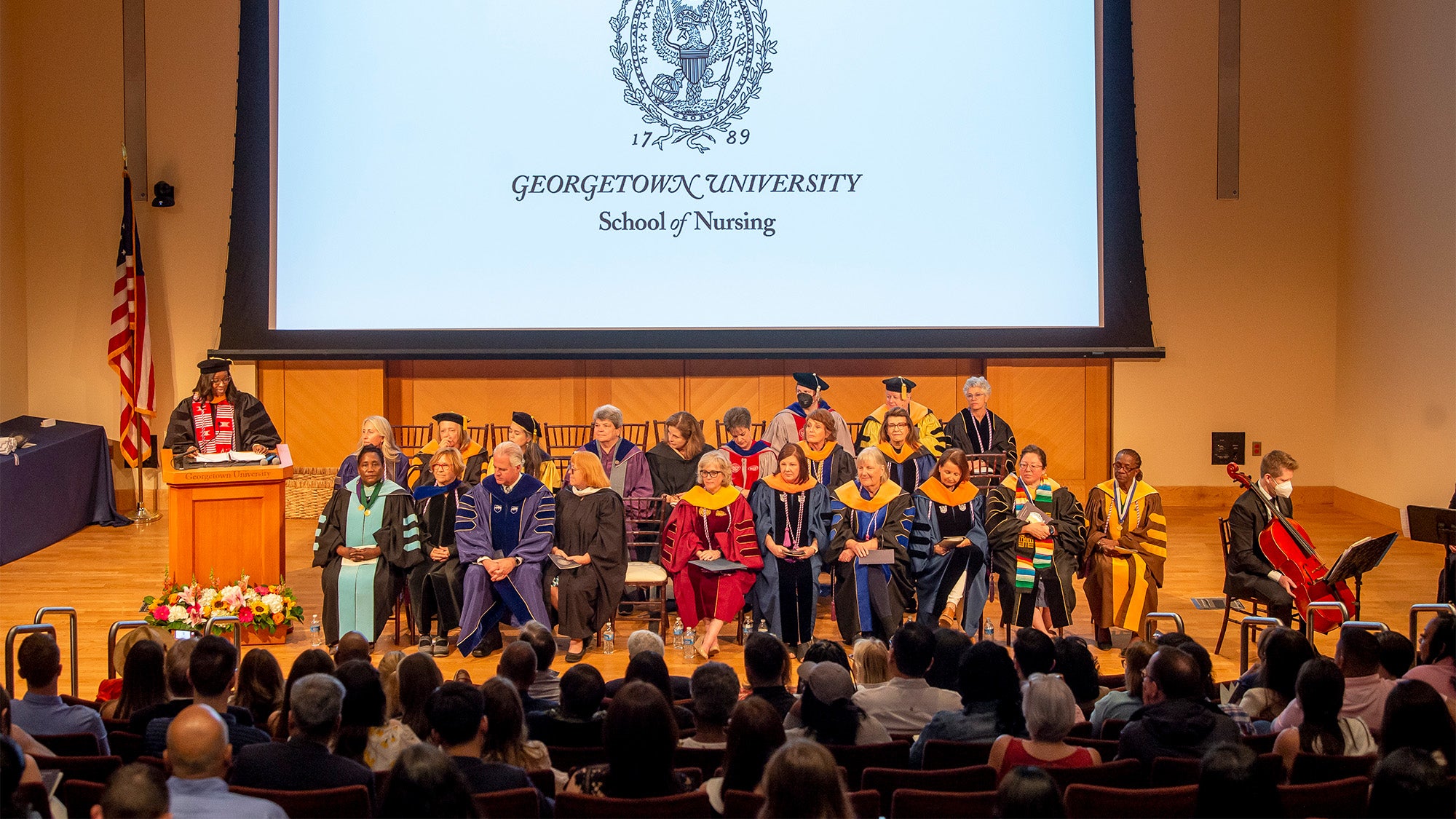 News Story
School of Nursing Tropaia Ceremony Honors Extraordinary Undergraduate and Graduate Students
May 22, 2023