Graduating Students Receive Pins and Become Hoya Nurses
(May 23, 2023) — Graduates of the Bachelor of Nursing and Clinical Nurse Leader programs gathered on May 18 in Lohrfink Auditorium to receive their Georgetown University nursing pins, a tradition for nurses entering the field.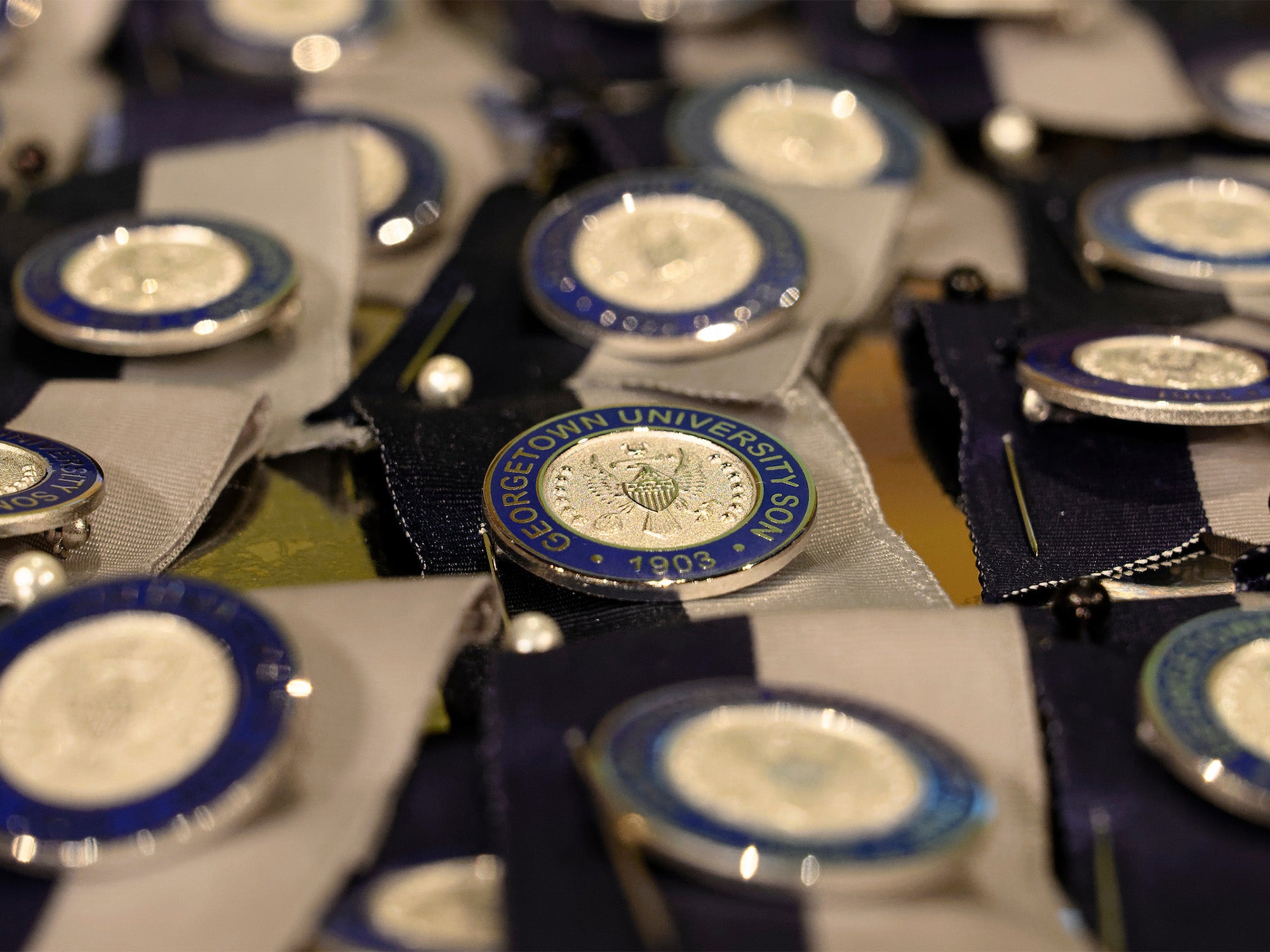 The School of Nursing founding year, 1903, is centered on the pins along with the university's seal.
"Congrats to all of our graduates," said Roberta Waite EdD, RN, PMHCNS, ANEF, FAAN, dean school of nursing. "As you begin professional practice, you will carry on a long tradition of nursing excellence that dates back to 1903 when our school was founded. With your graduation today, you are joining the thousands of Hoya nursing alumni that came before you."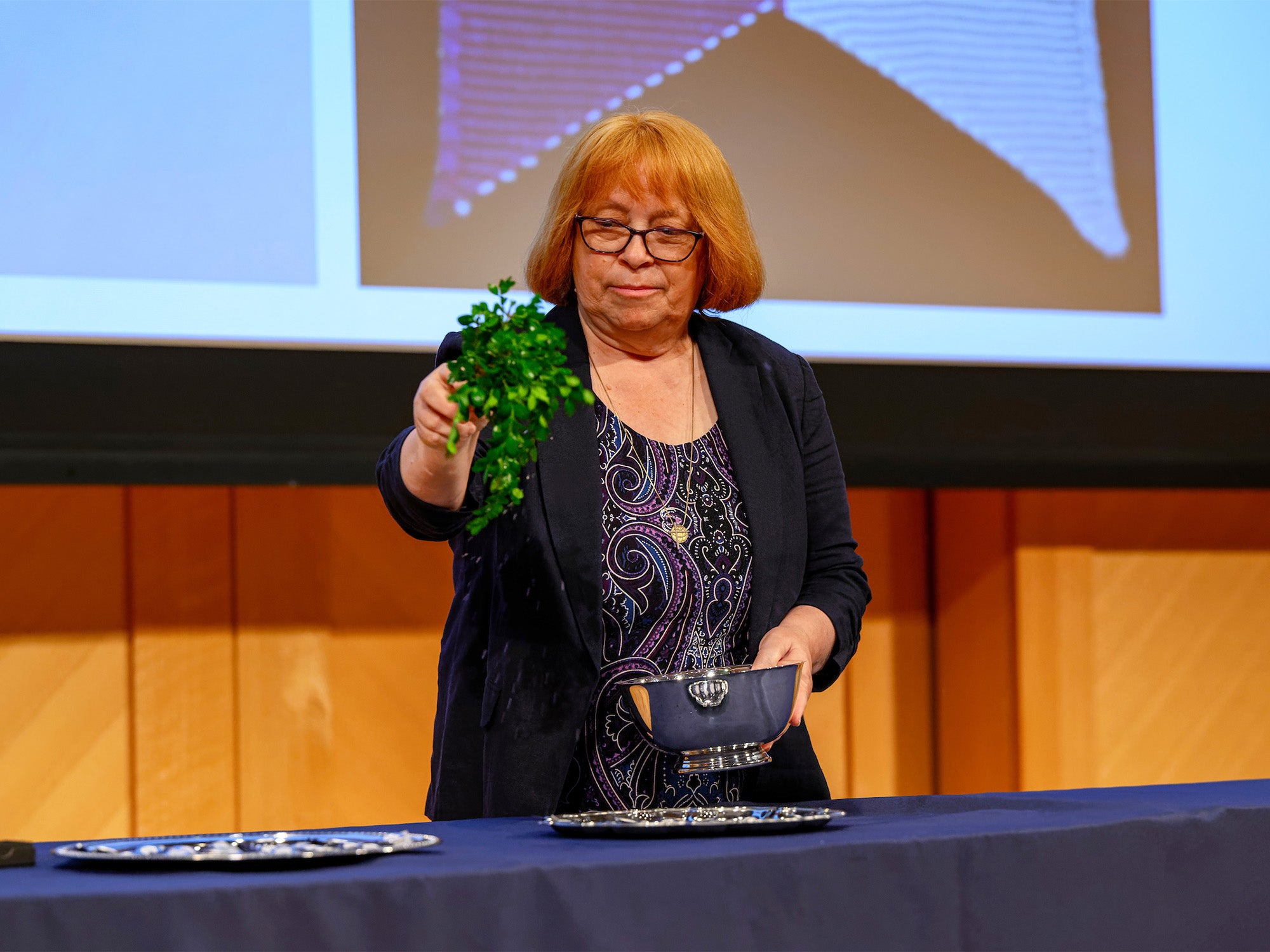 Graduates received nursing pins blessed by Sr. Celeste Mokryzcki, School of Nursing chaplain. The holy water for the blessing was brought back by faculty from Lourdes, France, a sacred healing site a few students are selected to visit annually as part of a School of Nursing sponsored trip.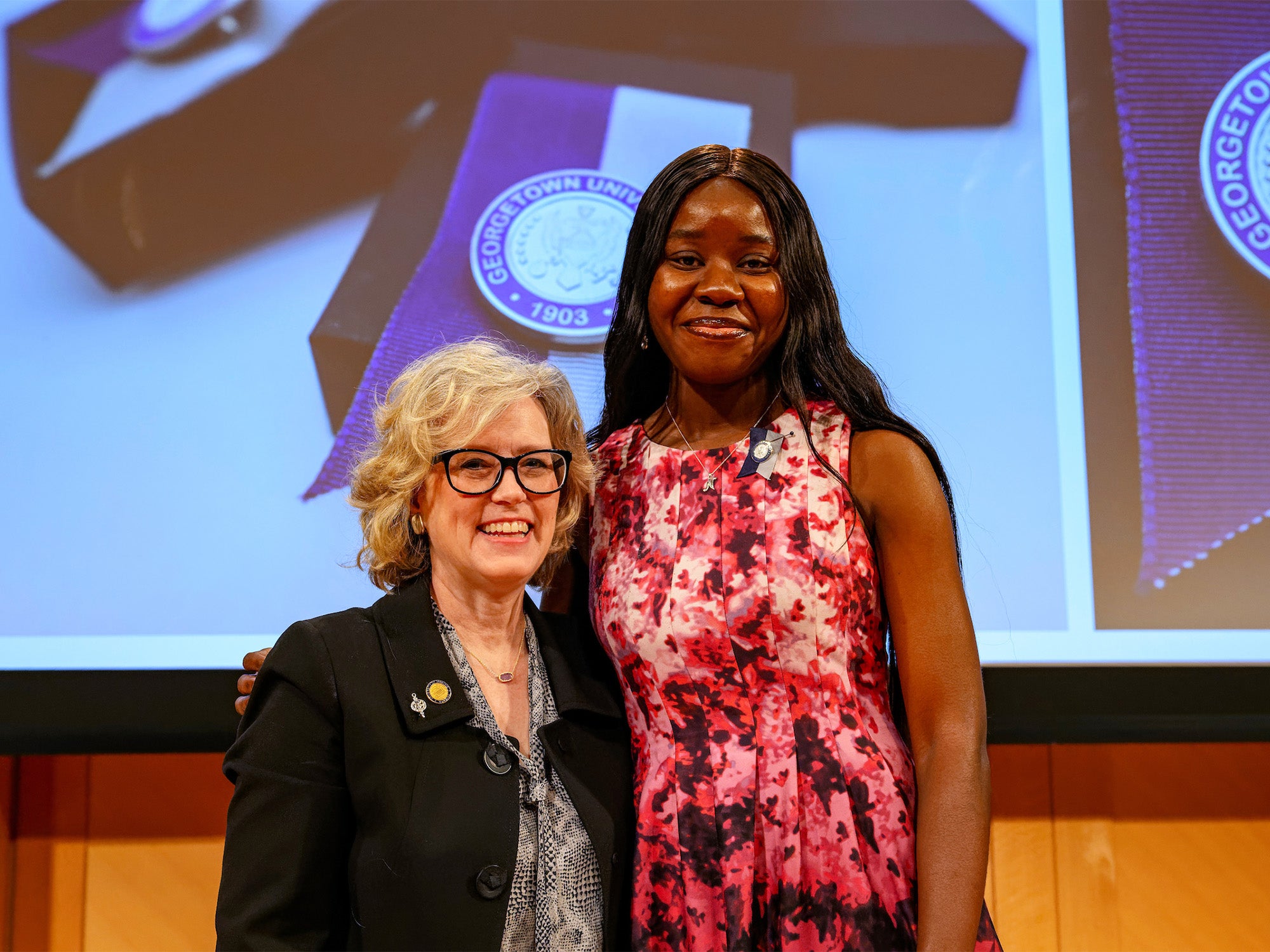 Naomi Eluojierior (N'23) received her nursing pin from Associate Professor of Nursing Sarah Vittone, DBe, MSN, MA, RN.
Isabella Seddon (G'23) received her nursing pin from Associate Professor of Nursing Diane Davis, DNP, RN, PMHCNS, CNL.
Megan Maynes (N'23) delivered the student address. "The women sitting in front of me are not graduating simply as nurses, we are graduating as Hoya nurses," Maynes said. "To be a Hoya nurse is to never shy away from difficult situations and lead by example."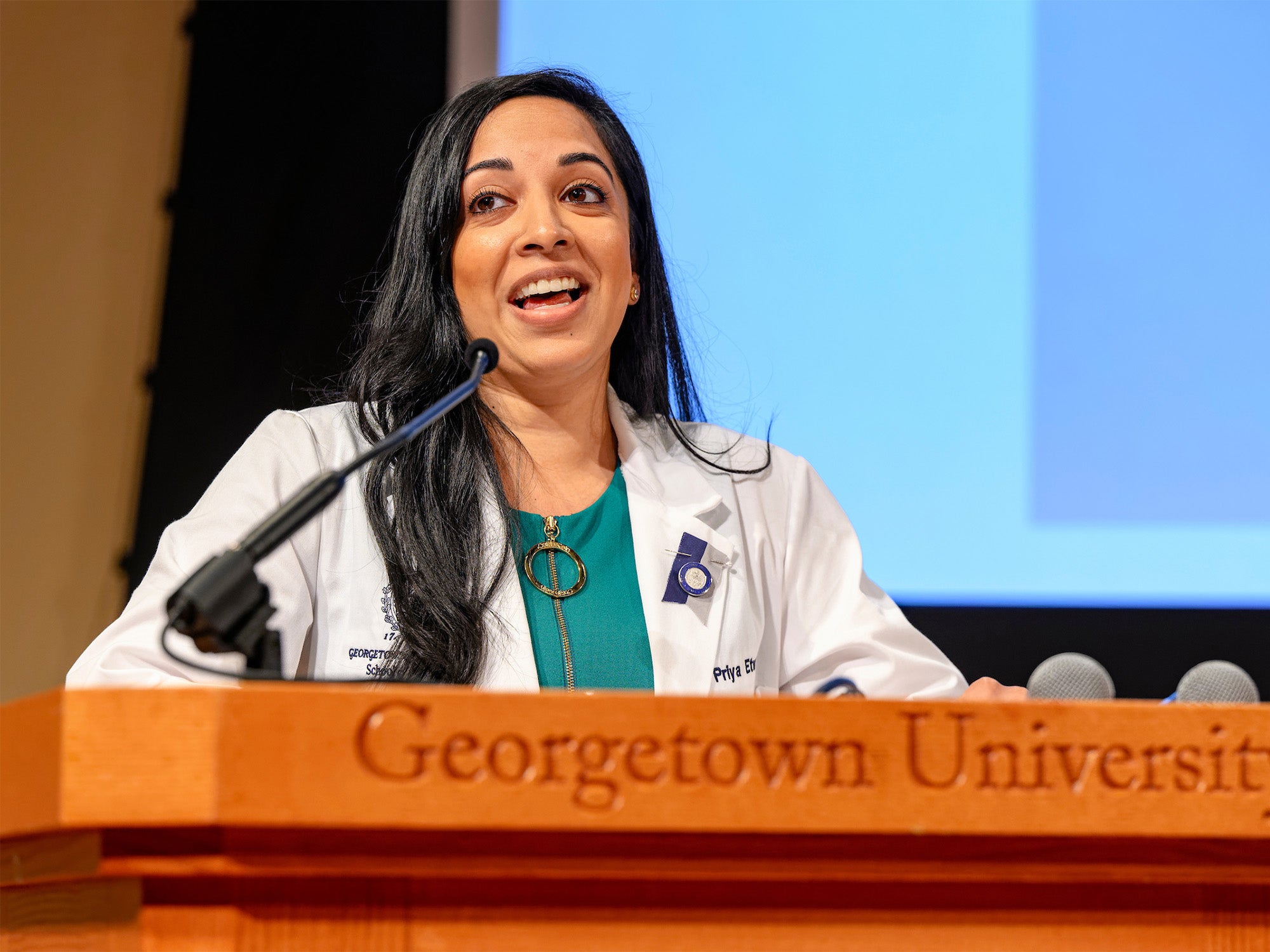 Priya Goncalvez (G'23) also gave remarks on behalf of the graduates from the Certified Nurse Leader program. "We will apply the value of cura personalis, caring for the whole person, that we learned here at Georgetown in our future career as nurses," she said.
---
View the Recording of the School of Nursing Pinning Ceremony
---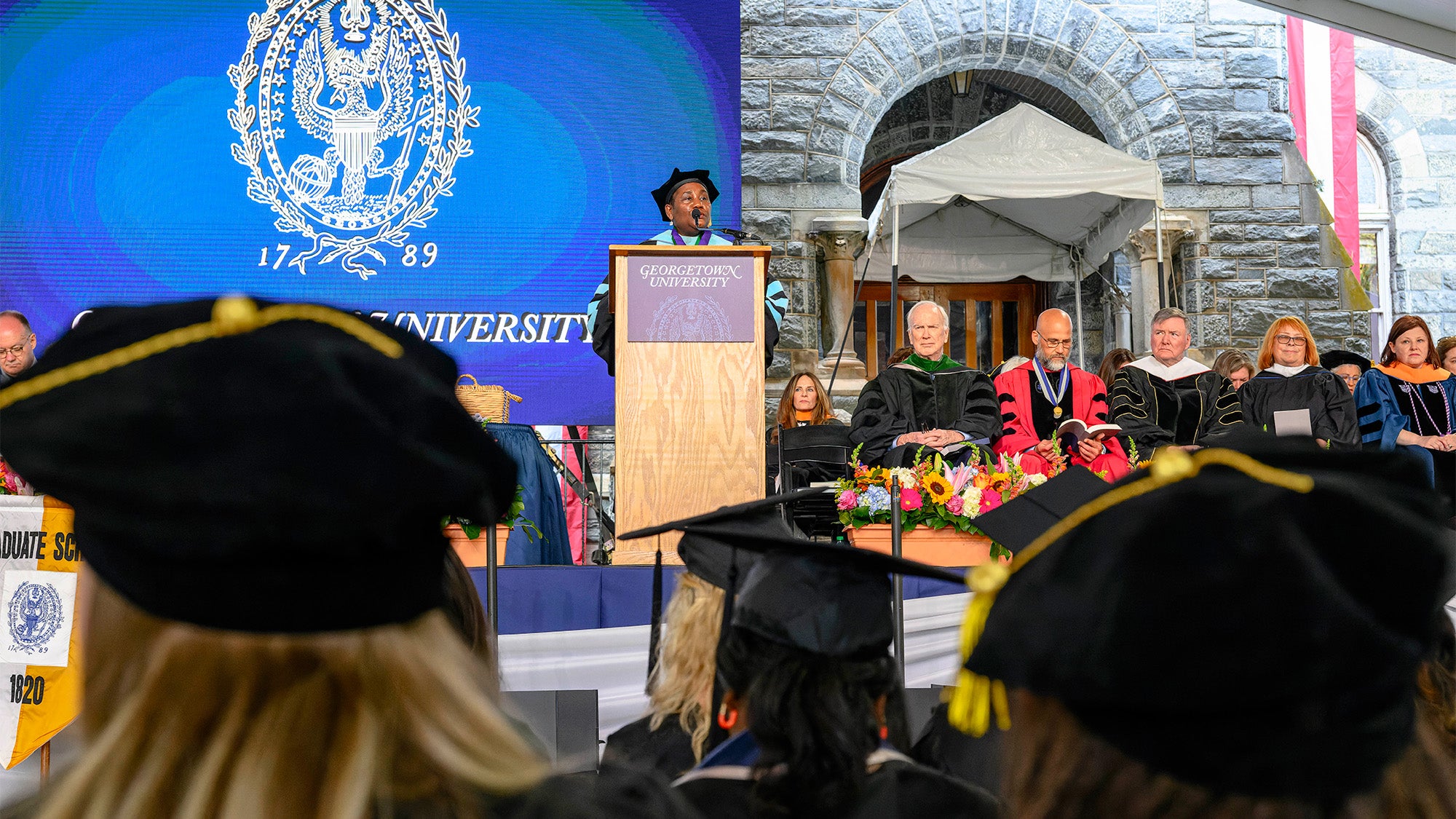 News Story
School of Nursing Celebrates Its First Class of Graduates
Surrounded by hundreds of their friends and family members, the first 341 graduates of the newly formed School of Nursing gathered on Healy Lawn to celebrate commencement for the Class of 2023.
May 22, 2023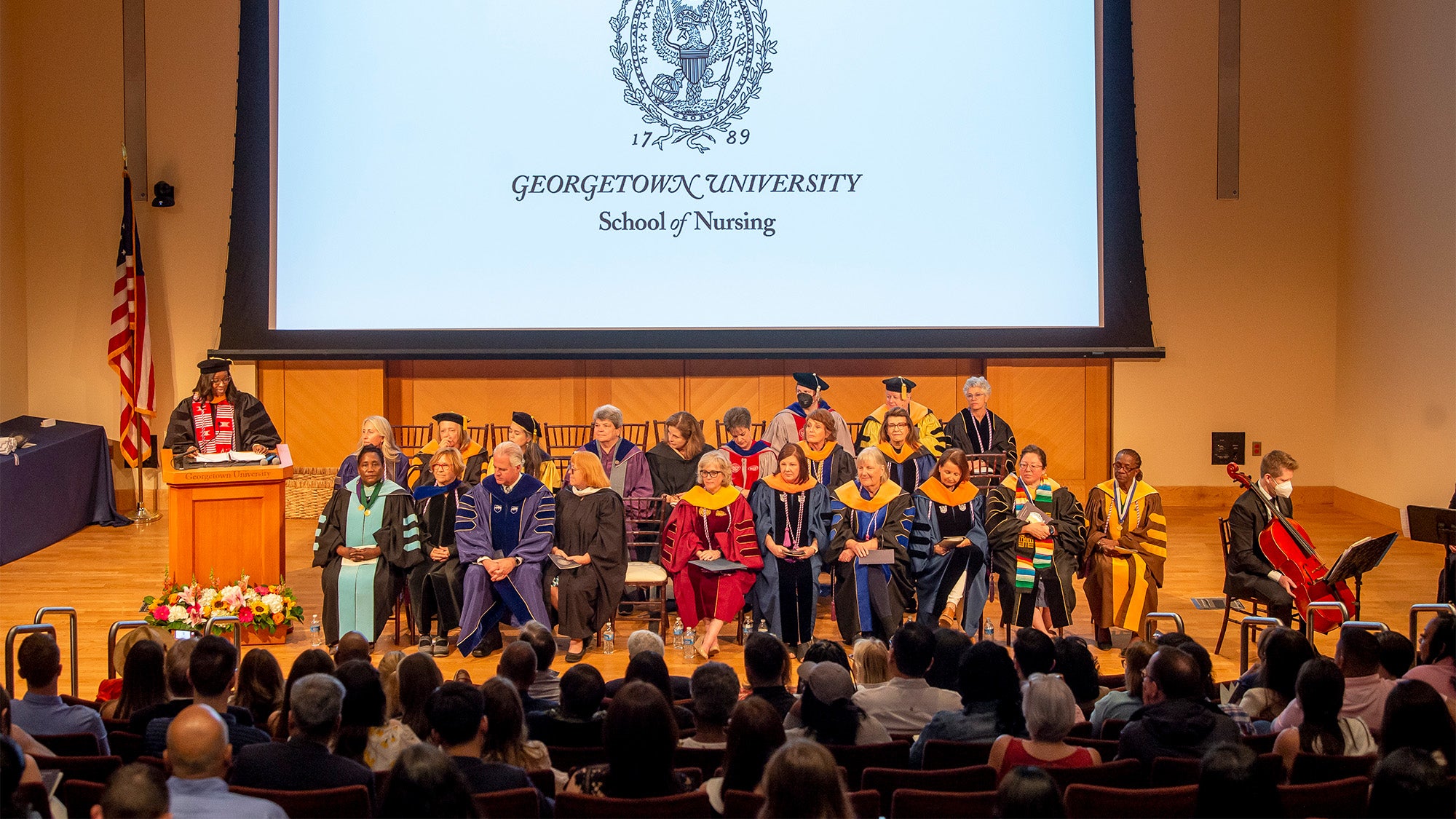 News Story
School of Nursing Tropaia Ceremony Honors Extraordinary Undergraduate and Graduate Students
May 22, 2023