White Coat Speaker Encourages Future Nurse Leaders to Use Their 'Superpower' for Society's Good
(August 10, 2022) — Speaking to students in the School of Nursing's Clinical Nurse Leader (CNL) program at their inaugural White Coat Ceremony, Georgetown alumna Maria Gomez, MPH, RN (N'77), called on the future leaders to be vocal advocates.
Gomez's remarks at the August 6 ceremony on the Healy Lawn at Georgetown came as the 22 students in the 2022 cohort prepare to graduate this fall and the 18 students in the 2023 cohort begin their final year.
"Use your superpower that many others don't have for the larger good of society," said Gomez, founder of Mary's Center, a community health center serving nearly 60,000 people in the Washington, DC, metro area for over 30 years. "We need you now more than ever."
Advocating for Justice
Gomez described her path to becoming a nurse leader, noting that her titles in the various roles throughout her career had not always been in nursing. However, she added, "I can tell you that all my decisions utilized the nursing skills that I learned at this great institution."
"As you set out into your careers in nursing, remember that you must try to make every touchpoint impactful," she said. "You must continue to keep the fire in your belly that brought you to Georgetown burning throughout your nursing career. This is what will allow you to heal and, just as important, to call out injustices and help right those wrongs."
Gomez also challenged the future leaders to not be bystanders in the profession. "You are people of courage and integrity. Do not stand by and allow mediocre care to take place," she said.
Gomez's impactful words moved the audience to a standing ovation.
Recognizing a Vital Role
This year's ceremony was organized by Onyea Randall (G'22), the School of Nursing senator for Georgetown's Graduate Student Government; Marie Beauchamin (G'22); and An Tran (G'23), president of the Graduate Nursing Student Academy at Georgetown.
The first White Coat Ceremony was led by the Gold Foundation and took place in New York in 1993 for medical students. In 2014, the foundation partnered with the American Association of Colleges of Nursing to adopt a White Coat Ceremony for nursing, recognizing the vital role nurses play on the health care team.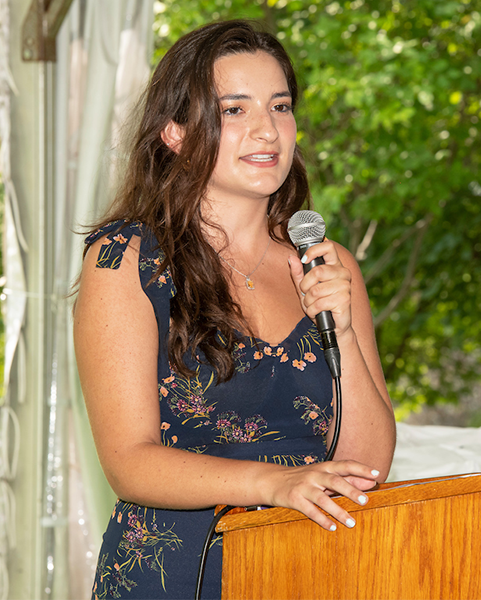 "As we receive our coats of honor and recite our creed of excellence, let us remember the following: A nurse is a leader, communicator, patient advocate, and confidant in a patient's most vulnerable time," said Beauchamin, who read Randall's written remarks. Randall was the selected student speaker, but was unable to attend. "Please take your coat as a badge of honor, and let's wear it with pride as we embark on our journey as nurses to serve the world."
Imagination and Transformation
The inaugural White Coat Ceremony took place just weeks after the launch of the reconceptualized School of Nursing. Going forward, the White Coat Ceremony will be an annual event organized by students for their classmates between their first and second years of the CNL program.
Roberta Waite, EdD, RN, PMHCNS, ANEF, FAAN, dean of the School of Nursing, noted the school's first white coat event was a "symbolic and significant moment."
"This ceremony marks an honored tradition, serving to welcome nursing students to health care practice and elevating the value of humanism as the core of health care," Waite said. "It provides a powerful emphasis on compassion in combination with scientific excellence. In essence, this ceremony is considered a rite of passage in the journey towards your professional nursing career."
Diane Davis, DNP, RN, CNL, associate professor and director of the CNL program and the Susan H. Mayer Professor of Health Equity, led the students in donning their coats before they recited the Pledge of Dedication.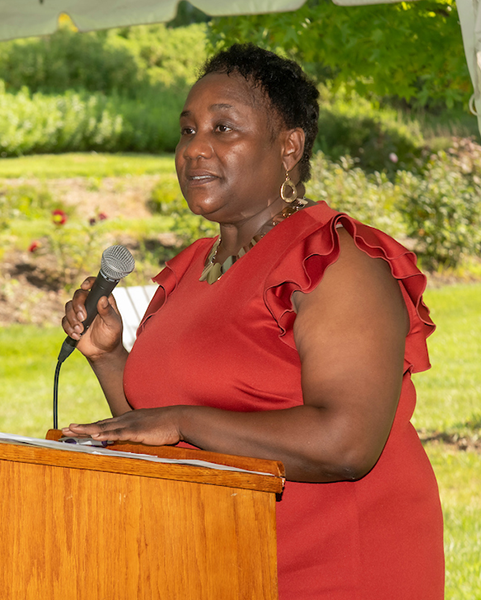 "I can only imagine your excitement in starting your nursing academic career here," Waite said during the ceremony. "The education you receive will open doors that you can only imagine. But imagination is key; if you keep an open mind, an adventurous spirit, and focus on promoting healing and partnering with those you serve, what you can transform will be boundless."
More Moments from the CNL White Coat Ceremony