Through Experiential Learning in Tanzania, Nursing Students Gain Experience and New Perspective
(July 28, 2023) — In less than two weeks, nursing students provided dental exams and vision screenings, led health education sessions, toured a hospital for patients with tuberculosis and HIV, visited a vaccine clinic, learned about postpartum care and more through the inaugural Tanzania Health Care Experiential Learning Initiative.
The initiative's co-directors, Krista White, PhD, RN, CCRN-K, CNE, associate professor of nursing and Kelley Anderson, PhD, FNP, CHFN, associate professor of nursing, wanted to maximize the students' time in the country. Students hit the ground running, working alongside local health care providers in the rural Kilimanjaro region to provide health screenings for hundreds of school-age children less than 24 hours after they arrived in East Africa.
The eight graduate nursing students and three faculty members also lived out Georgetown's Jesuit value of cura personalis, caring for the whole person, by not only providing health care but also learning from Tanzanians about the health needs of the community.
"My 10 years as an emergency room nurse left me feeling like health care in America is driven by numbers and quotas," said Jessica Zimmerman (N'24), a student in the Nurse-Midwifery/Women's Health Nurse Practitioner (NM/WHNP) program. "In Tanzania, we were there to provide health services and directly help people, which was so refreshing."
First-Time Patients
Providing health screenings for children addressed a critical need in the community and faculty members planned a clinic briefing with Tanzania health care providers a day after arriving in the country.
"A big reason we were there is to provide health screenings," said Zimmerman. "Health services in the region are few and far between, and for many of the children, this was their first interaction with a health care provider."
"The screenings were a great collaborative effort with the government medical directors and local providers," said Nicholas Porretta (N'24), a student in the Family Nurse Practitioner (FNP) program. "We asked what they needed from us and listened."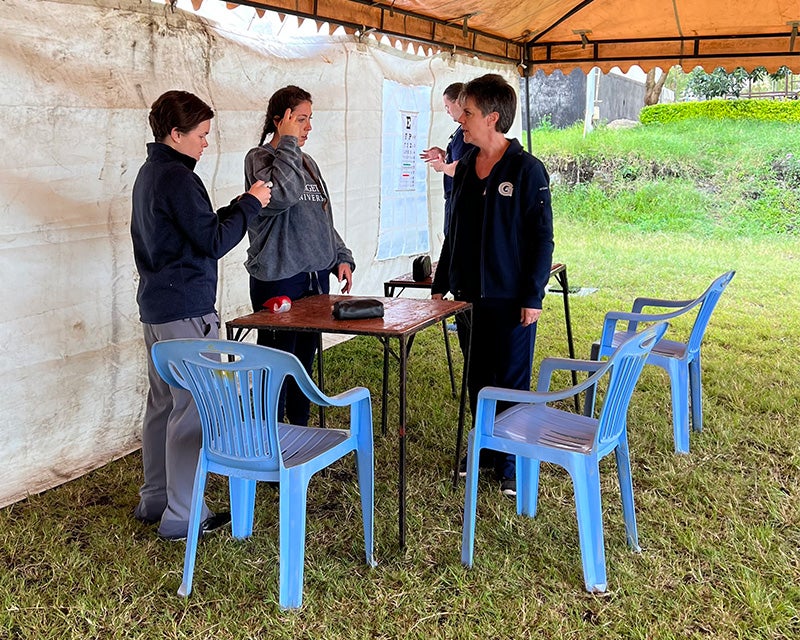 The screenings took place morning through the afternoon except for a customary cultural late morning pause for chai.
"We started with a basic screening of weight, height and mid-upper-arm circumference, which is a way to screen for malnutrition," said Zimmerman.
Several of the students reported seeing malnutrition, especially in children, for the first time.
"Some of the children experiencing malnutrition we noticed had pretty low energy, and their eyes were sunken," said Isabella Seddon (N'23), a student in the Clinical Nurse Leader (CNL) program. "It was hard to see, because it could have easily been prevented, but because of a lack of resources these children were experiencing these severe effects."
Tanzania has experienced a drought for the past several years, which has affected the population's nutrition and overall health. 
The nursing students also provided vision screenings and dental exams alongside a local Tanzanian dentist. Following the screenings, students worked with local providers to provide referrals to specialists.
"If something was flagged in the initial screening, mainly led by CNL students, then the children were directed towards another tent where the FNP students, who are training to be primary care providers, took another look and worked with the local providers on referrals for families," explained Seddon.
"We referred about one-third of the children we saw for various health reasons, such as one child I remember referring for an acute skin condition that would need a prescription medication," said Porretta.
After their health screenings, the children were then invited to attend educational sessions co-led by Georgetown nursing students on varying topics from dental care and tuberculosis prevention.
Zimmerman helped lead the session on puberty education based on a government-approved curriculum in which boys and girls were separated.
"The girls had such great questions, especially about menstruation," said Zimmerman. "We discussed proper hygiene, including how to properly clean not only menstruation pads but also the buckets they were using to clean them in."
"Overall, I think the two-day clinic worked out pretty well," said Seddon. "The screenings reminded me what nursing is all about: preventing illness by being there on the ground."
Treating the Whole Person
Another highlight of the trip for many students was the half-day the group spent taking part in a health seminar with 150 local widows.
"A widow in the region can be a woman whose husband has died, but also could be a woman who has been abandoned or single," said Porretta. 
"There's a real stigma around widows in Tanzanian culture," Zimmerman said. "Widows are often shunned by their community and are not taught how to deal with this grief."
Part of the seminar included mental health discussions in addition to strategies about how the widows could support themselves financially.
"Caring for the person involves mental health, which often gets overlooked," said Porretta. "I was thankful to see how grief was processed as a group with the widows who shared their struggles about losing someone and how they processed."
Many of the students spoke about the joy emanating from the widows at seeing their fellow group members succeed in life, such as setting up their own local business.
"One of the businesses the local widows organized was a coffee grinding business that makes really fine, almost instant-like coffee," said Zimmermann. "The women were able to support themselves financially from the business."
The widow health seminar ended with singing and dancing that students recalled showcasing the strength and determination of the women.
"It was so amazing to see their resilience, how hard they were working to take care of themselves, and then to be able to smile and dance, it was just liberating to see," said Porretta. 
Comparing Health Care Delivery Systems
The Georgetown group also shadowed people working in a range of health care settings in Tanzania, including local outpatient clinics with pharmacies, an infectious disease hospital and vaccine clinics.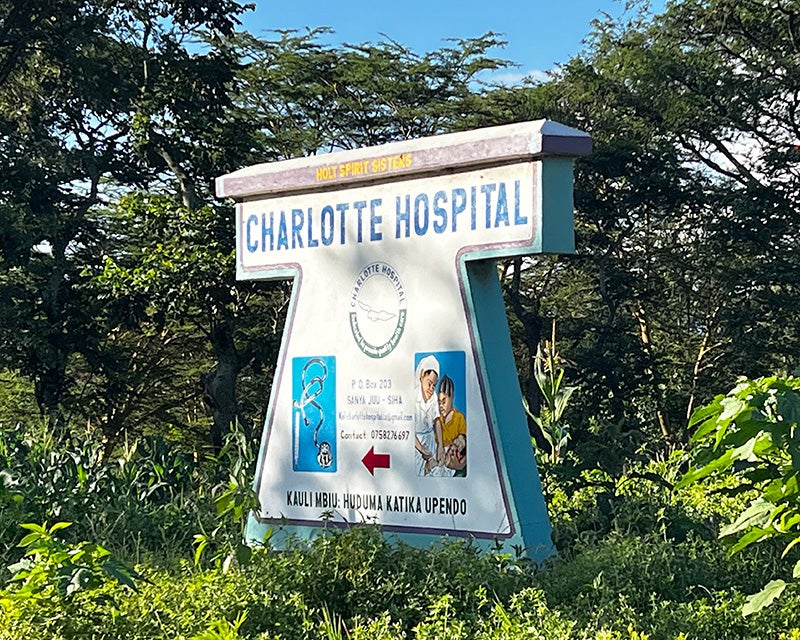 "It was incredible to see how the Tanzania health care system was meeting the needs of their people with the limited resources they had," said Porretta. "It makes you appreciate the resources we have in the U.S., but also just reminds you how much just doing physical assessments and limiting the tests to what is necessary can do for patients."
The Kibong'oto Infectious Disease Hospital is internationally known for its work on tuberculosis and HIV. The Georgetown group toured the wards of the hospital, mostly filled with men who work in the local tanzanite mines, where they breathe in silica and often develop silicosis, which damages the lungs and makes them more susceptible to tuberculosis.
"Most of the patients are there for six months or more and are unable to see their families because of quarantine and the money necessary to travel," said Zimmerman. "But at least in these wards, the men are able to connect with each other because there's no risk of transmission after a certain time receiving treatment and being quarantined."
At the vaccine clinics in Tanzania, all children ages 5 and under were able to get free vaccines.
"It was incredible to see all of these mothers lined up with their small babies, who were screaming at receiving their vaccines," said Seddon. "But the Tanzanian health care officials just kept administering shots, three families at a time."
The same day the group visited the vaccine clinic, they also held a professional collaboration session with Tanzanian nurses and midwives about postpartum hemorrhage at a district hospital.
"Professor Jeanne Jacobwitz did a presentation for midwives on a novel new device that controls postpartum hemorrhaging more effectively than the traditionally used Bakri balloon in preclinical trials," said Zimmerman. "Some of the Tanzanian midwives shared they didn't have access to Bakri balloons so were forced to instead pack the uterus with gauze — which is extremely painful and brutal — to try and save the women's life."
The postpartum hemorrhage presentation highlighted the intraprofessional opportunities available to students on the trip.
"I especially valued the presentation about postpartum hemorrhaging, which was so informative, and something I would not necessarily be exposed to in my FNP curriculum," said Porretta.
Time to Reflect
Each evening, students and faculty shared experiences through structured reflective activities. One of their last days in Tanzania, the nursing students went on a safari to help decompress after the week's busy flurry of events.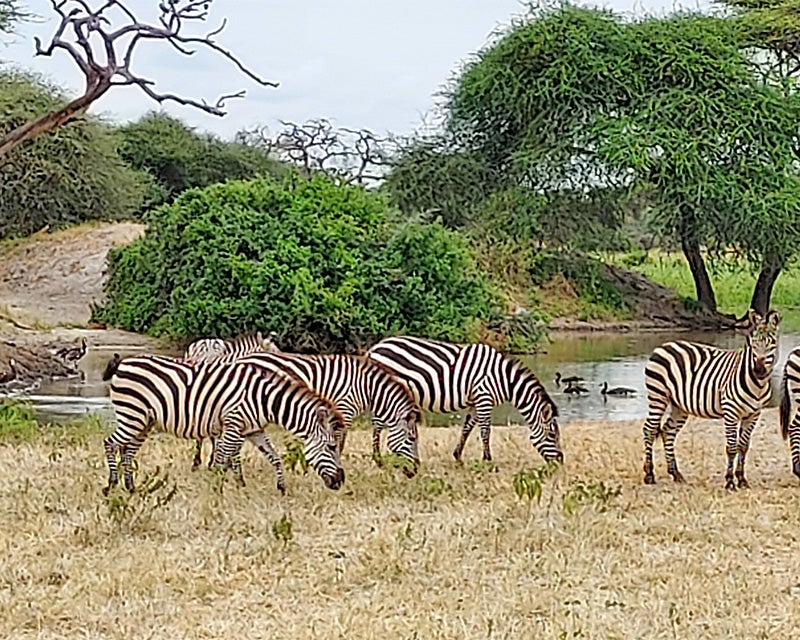 "The safari was a nice little surprise," said Oluwakemi Adelakun (M'23), a CNL student on the trip. "It was my first time on a safari, and seeing zebras, giraffes and lions was a really neat experience."
At one of their last dinners, students shared with the group the Georgetown Jesuit values they either put into action or saw in the community the previous week. In preparation for the discussion, students were given a journal at the beginning of the trip to reflect each day on their experiences.
"It was important to have the opportunity to reflect and talk with each other about our experiences and what we can incorporate into our future practice," said Porretta. "It definitely felt like we were practicing contemplation in action."
"There's just so much I was exposed to on the trip, how drought impacts community, the effects of malnutrition, what hospitals look like abroad," said Seddon. "I definitely hope other students have an opportunity to go on the trip."
"Everyone in the medical field needs to go outside of America and see how other people practice," said Zimmerman. "Your perspective is just widened with what you can do with just basic, preventive medicine."
Heather Wilpone-Welborn
GUMC Communications