School of Nursing Uses 'Escape Room' in Novel Teaching Approach for High-Pressure Environment
Pictured Above: Aly Tromer (G'26) (second from left) and her teammates put the knowledge and skills they'd acquired during their first semester in the Doctor of Nurse Anesthesia Practice Program to the test and successfully completed the "Escape Room" simulation created for them by Megan McAuliffe, assistant professor of nursing.
(August 25, 2023) — In late summer, dozens of nurse anesthesia doctoral students found themselves locked inside a classroom, racing against the clock to see who could solve a series of puzzles and free themselves from the "escape room" the fastest.
It wasn't a scene from the latest medical thriller, but rather an end-of-summer semester learning exercise that allowed eight groups of students to experience the pressure of using their professional skills in a timed setting while relying on their knowledge, critical thinking and teammates for success.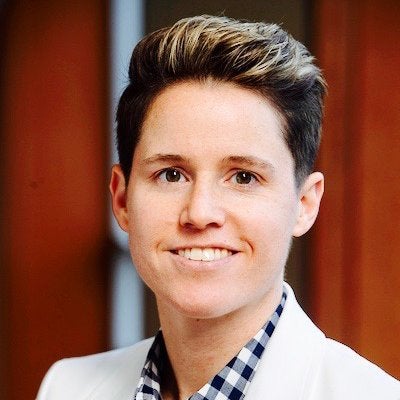 "Escape rooms have historically served as entertainment or recreational activity, but they are gaining popularity in a variety of health care-related fields," explained Megan McAuliffe, DNP, CRNA, assistant professor and simulation laboratory director of Georgetown's Doctor of Nurse Anesthesia Practice Program. "Our students are immersed in a scenario and challenged with a specific goal where they must work collaboratively to uncover clues, complete tasks and solve puzzles within a time-constrained environment."
The stressful environment of an escape room mimics the pressure of the clinical environment where these future nurse anesthetists will practice. All students who participated in the escape room simulation were in their first semester of the Doctor of Nurse Anesthesia Practice Program (DNAP), a rigorous three-year program that trains graduates to become certified by the National Board of Certification and Recertification for Nurse Anesthetists (NBCRNA).
"Our students are used to intense environments," said McAuliffe. "In order to be accepted into the program, you must have at least two years of experience as a nurse in a critical care environment."
Practical Puzzles
In the escape room, "There's a big red timer on a board that makes things stressful," explained Aly Tromer (G'26). "But everyone in my group was just really excited and motivated to work collaboratively."
Students competed on teams composed of five to six lab mates, whom they had worked with the entire semester in the simulation laboratory.
"We were told when our group started that no one had escaped this year so far, so we were all super motivated to escape because we were the last group," said Tromer.
McAuliffe had never personally participated in an escape room before creating the entire exercise for DNAP students three years ago with the assistance of Kelli Giffin, simulation lab manager, and Kayla Garrett, simulation technician. She wanted the puzzles to mirror the concepts and objectives they had just learned in their first semester Introduction to Nurse Anesthesia.
"The escape room is an alternative teaching strategy that reinforces the traditional didactic-based curriculum and simulation-based training," said McAuliffe.
"It was such a fun way to think through all of the things we had learned the past semester," added Tromer.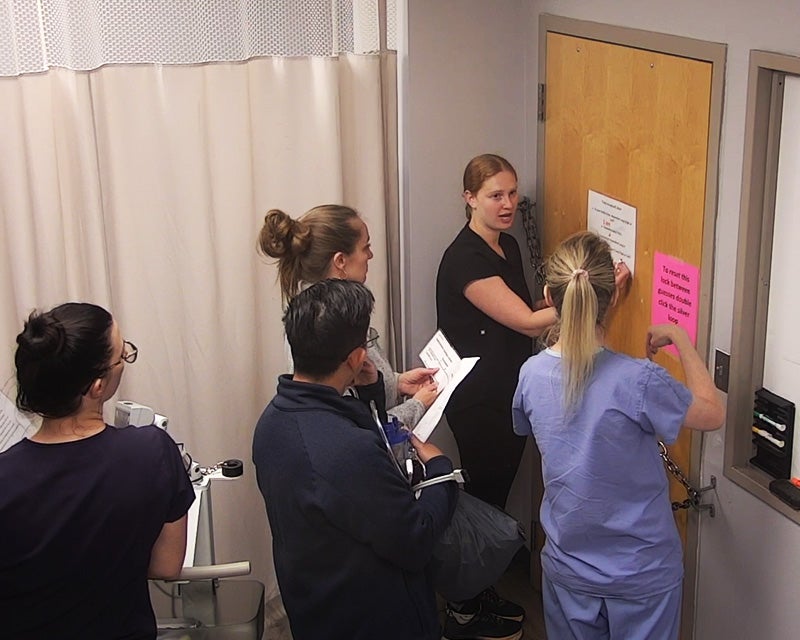 After entering the escape room, students were given this scenario: A patient is arriving for a scheduled procedure and the anesthesia tech has called in sick. The students must set up the entire room, including the anesthesia machine, so that the patient can be intubated for a procedure by the scheduled time. However, before they can even get to the machine, students must first complete a series of puzzles related to topics they covered in class.
"You walked in the room and started to see all the puzzles that had to be completed, such as one that required us to piece together all of the muscles of the airway correctly," said Tromer. "Each muscle was color coded to match a number that was part of a code to open a lock."
After completing additional puzzles, students were able to unlock a door to enter a second escape room containing the anesthesia machine. Setting it up also involved solving a puzzle.
"The main objectives of the exercise were for students to prepare a basic airway setup, collect standard monitoring equipment, and complete a full machine check before the patient arrives at the operating room," said McAuliffe.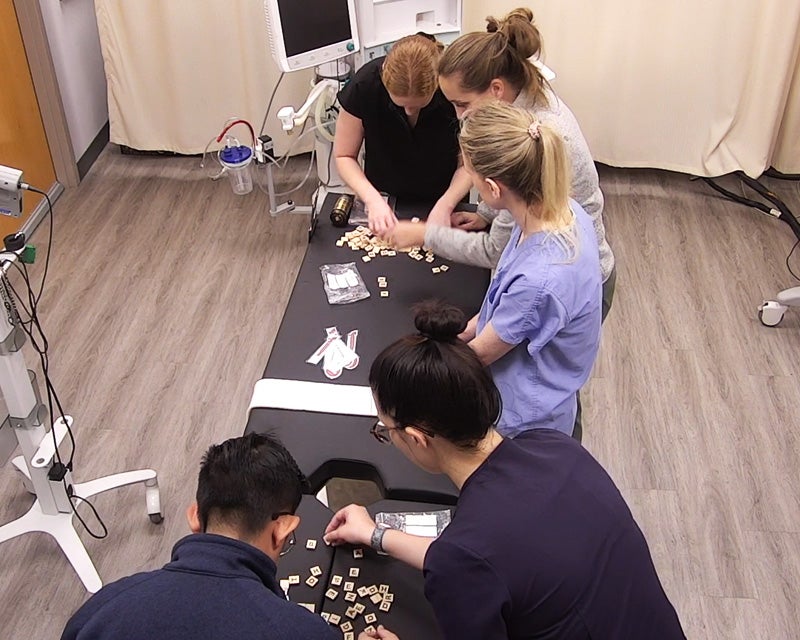 "As part of the machine check, we had to find each part of the machine, such as a CO2 scrubber, and then make sure everything is in place correctly and working before the patient arrives for the procedure," said Tromer.
Students had an hour to complete all of the puzzles, including the machine check. "The hour time frame is important, because that's a similar time frame for novice student nurse anesthetists in a clinical environment to get everything ready for their case," said McAuliffe.
Students were allowed to ask questions, but incurred a penalty that reduced the amount of time they had to complete the escape room. "Asking for help when you need to is also an important skill to learn, instead of trying to go down a path alone and waste valuable time, especially when it may impact a patient in a real-world setting" said McAuliffe.
Escaping to Learn, Escaping for Fun
After multiple years of observing students participate in the escape rooms, McAuliffe has noted interesting things about the exercise.
"I noticed how the students interact with one another in their groups as well as how they approach problem-solving," said McAuliffe. "Some students may take on more of a leadership role and may be more vocal, while others are quiet and more reserved in their approach to solving puzzles.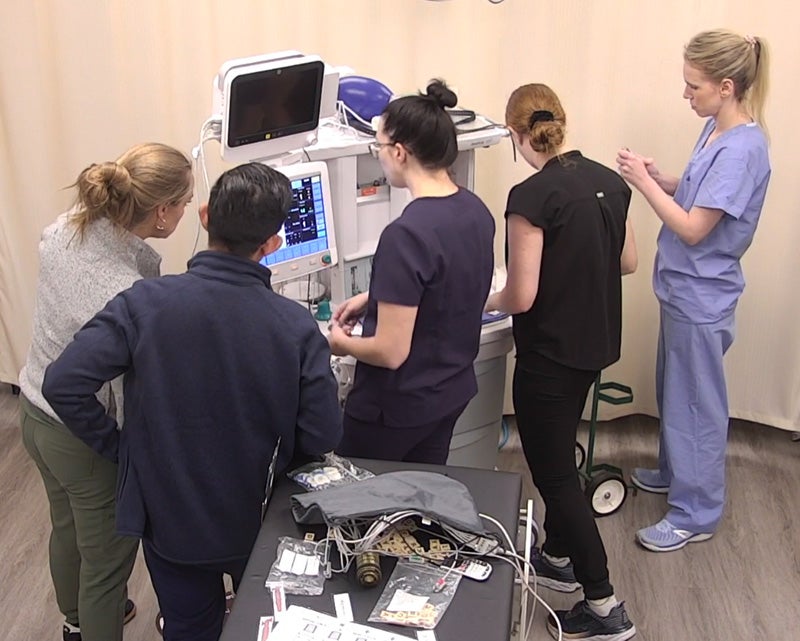 "Most of our students are highly competitive, but it's also just fun," said McAuliffe.
Tromer's group, who called themselves "the Bougies" after a tool used during intubation, successfully escaped with over seven minutes remaining on the clock. Along with gloating rights, the winning team also receives a pizza party for their efforts.
"The escape room enhances content knowledge, critical thinking skills, communication skills, and teamwork among our first-year nurse anesthesia students," said McAuliffe. "Incorporating this type of interactive learning experience into a simulation-based environment has the potential to improve essential technical and non-technical practice skills and competencies that align with the standards of nurse anesthesia practice."
"We now want escape rooms for anatomy and everything else we do in labs," said Tromer.
Heather Wilpone-Welborn
GUMC Communications