School of Nursing Students Provide Spiritual Care to Pilgrims in Lourdes, France
Pictured Above: Dressed according to guidelines required of Lourdes volunteers, the 10 students from the School of Nursing who participated in the Lourdes Magis Immersion Program stand in front of the Sanctuary of Our Lady of Lourdes.
(June 30, 2023) — Experiencing the hands-on practice of providing spiritual care attracted 10 School of Nursing students along with faculty and staff to the holy site of Lourdes, France, where 3 million pilgrims journey each year from across the globe seeking relief in the location's historic healing waters.
The annual trip is part of Georgetown's Lourdes Magis Immersion Program and took place May 26-June 6.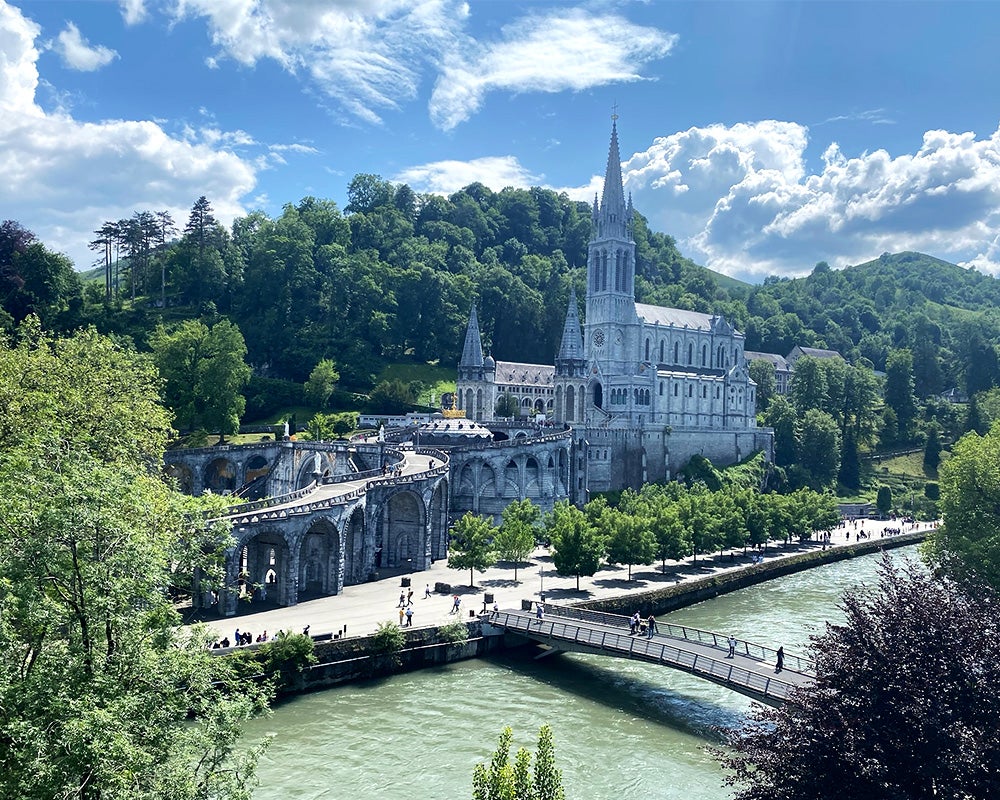 "The trip to Lourdes reminded me why I wanted to be a nurse," said Christine Mauvais (N'24). "As nurses, we see people at their most vulnerable, and our role in direct patient care is to make the journey they are on as positive as possible."
Mauvais described one moment that stood out for her on the trip that involved a family who had traveled from her home state of Florida to visit the holy waters in Lourdes for one of their daughters, who was diagnosed with advanced cancer.
"After realizing we were all from Florida, we then talked about Saint Bernadette and the history of the healing powers of Lourdes," Mauvais said. "We prayed together and they just kept expressing their gratitude. We only spent probably seven minutes together, but we had such a strong emotional connection and it was just a beautiful experience to be there and be present with them."
"The work we did in Lourdes is so important for our profession as future nurses because so much of what we did is working one on one with people and being attuned to the smallest aspects of their care," said Diana Tran (N'24).
Practice Being Present
After a daylong orientation, nursing students assume their posts as volunteers with the Hospitale in the baths, where they are often paired with a more experienced volunteer who also speaks a language besides English to accommodate the international visitors. The nursing students work in two-hour shifts twice a day, ultimately interacting with hundreds of pilgrims.
In the baths, volunteers help guide pilgrims through prayer and then perform the fundamental gestures that the Virgin Mary told St. Bernadette to do: wash the face, wash the hands and drink the water.
Students reported meeting pilgrims from countries as far away as Singapore, with many European countries also being represented, such as Italy, France, Portugal and the United Kingdom.
"I'm a sister of St. Joseph, and we roll up our sleeves when we have an opportunity to serve," said Sister Celeste Mokrzycki, SSJ, chaplain for the School of Nursing, who not only accompanied the students on the trip to Lourdes but also provided service to pilgrims in the baths.
Mokrzycki recounted being especially touched by a family visiting from India whose 8-year-old daughter had undergone seven operations prior to coming to Lourdes.
"As we started to pray, the mother just started to break down, and I could see the guilt on the daughter's face knowing that she was the cause of the mother's pain," Mokrzycki said. "I just held that little girl in my arms and told her that I could feel the goodness coming from her in the love she had for her mother.
"Just being present in moments like this with the pilgrims is something we talked about on the trip," said Mokrzycki. "Although it required a lot of them emotionally, the students expressed feeling so free in being able to have the opportunity to just connect with the visiting families."
Mokrzycki and Mauvais both referenced the Georgetown value of cura personalis, care of the whole person, as including spiritual care.
"Students spend so much time practicing the physical care required in nursing, but often don't have the opportunity to provide spiritual care," said Mokrzycki. "But in just a short amount of time, often with a language barrier, our students looked in the eyes of pilgrims and made nonverbal connections conveying that they were there to offer compassion."
Life After Lourdes
The students, faculty and staff ate meals together and scheduled time to reflect on service at the baths as a group.
"A neat aspect of the trip is talking to your classmates about what nursing is about at Georgetown and talking to your professors about their families," said Tran. "It really builds community."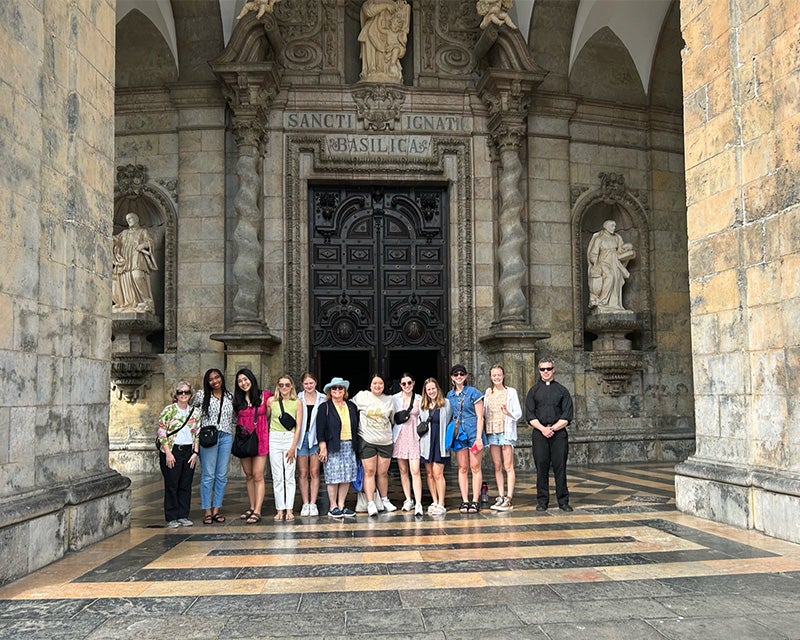 The group also had the opportunity to visit the Medical Bureau of the Sanctuary as well as attend an international mass with over 10,000 pilgrims.
Before heading back home, the group visited Loyola, Spain, to learn more about the history of Saint Ignatius of Loyola.
The faculty also brought back a small container of holy water from Lourdes that will be used to bless the nursing pins for graduating students next spring.
"Seeing how important the water in Lourdes is for people after going on this trip will make receiving our pins more special," Mauvais said.
Heather Wilpone-Welborn
GUMC Communications
---
More Scenes from Lourdes
The students attended an international mass in the Sanctuary of Our Lady of Lourdes.
Students practiced with each other in preparation for volunteering in the baths.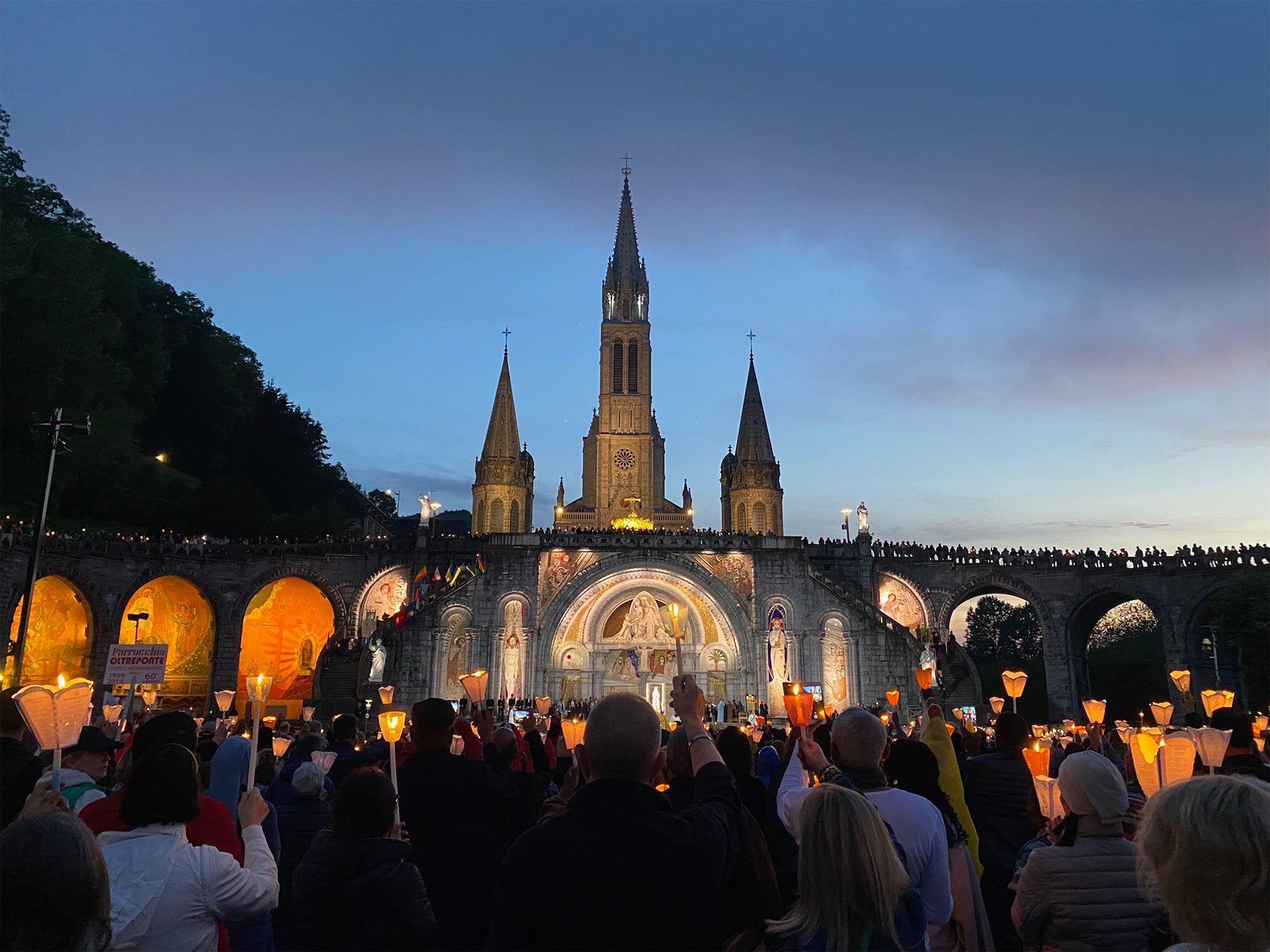 A scene from the daily torchlight procession outside the Sanctuary of Our Lady of Lourdes.