School of Nursing Graduate Student Embraces Yupik Lifestyle While Serving Underserved Populations in Rural Alaska
(September 15, 2023) — When Lindsey Wagner (G'24) first learned of the opportunity to teach and work through her undergraduate university in a very rural area of Alaska, she found little to be excited about.
"When I first learned about Bethel, I really did not want to go, but once I arrived there, even in freezing cold February, I fell in love with the village," said Wagner. "You have to fly or travel by boat just to reach it."
Wagner worked as a clinical instructor and nurse in Bethel, a small city in western Alaska with a population of approximately 6,000, the majority of whom are Alaska Native.
"I ended up staying four years and really enjoyed being part of the Yupik Native community and embracing an outdoor lifestyle of boating, hunting and fishing," said Wagner. "The community and everyone who works in the hospital there are really close-knit where you share and take care of your neighbor."
Wagner will soon embark on new work serving Native peoples with the Indian Health Services in Anchorage as she works to complete her graduate degree in the School of Nursing's Nurse-Midwifery/Women's Health Nurse Practitioner Program.
A Humbling Destination
Wagner showed interest in working with underserved populations from the beginning of her nursing career. While at Northwestern University, where she graduated with her undergraduate nursing degree in 2013, Wagner had a chance to study abroad in Kolkata, India. "I fell in love with working with underserved populations from that experience," she said.
Her undergraduate institution also provided the opportunity to first visit Bethel as part of a teaching position she held in 2017 with the institution.
Wagner described her lifestyle in Bethel as "humbling."
"I learned how to fish and then cut fish from the Native community, who will welcome you into their homes and families," she said. "As a nurse, you often miss that aspect of getting to know the people you care for, but it was such an honor to see a different culture and see how they place different values on things."
Wagner grew to appreciate what it took for the Yupik community to survive in rural Alaska for so long, not only the difficulty of the geographic location but also the historical antagonisms with the federal government.
"The culture is very resilient, and the people have been through so much intergenerational trauma," said Wagner. "The Native populations near Bethel weren't forced off their land, because the land is so remote and harsh to live on that no one wanted it. But Native children were taken away from their families and sent to boarding schools."
The harshness of life, generational trauma and high levels of substance misuse in the community also contribute to a high suicide rate, she said.
"You also see how social determinants of health impact the patients in Bethel," said Wagner. "Many families don't have basic necessities like running water, and there's high tobacco use, which can lead to adverse health outcomes."
Embracing Labor and Delivery
Wagner started working at the local community hospital in Bethel on the medical-surgical unit, but switched to labor and delivery.
"I fell in love with the moms and babies," said Wagner, who described a tradition of natural birth practiced at the hospital where the cesarean section rate is only 10%, almost half the rate for the state of Alaska. The hospital also has policies to only perform medically necessary inductions and does not have the staffing to perform epidurals.
"The majority of the delivering patients are Native women, who have cultural norms around delivery involving staying calm and relaxing your body," said Wagner.
Before patients arrive at Wagner's labor and delivery room, they are flown into Bethel 36 weeks pregnant and spend about a month in a housing facility set up by the hospital.
"The moms are scattered throughout different villages far away, so getting them to Bethel ahead of time makes sense for delivery," said Wagner. "But they are usually traveling alone, which can be hard to be away from your family for that long."
At the so-called prematernal home, the patients have meals cooked for them and are able to receive medical care when necessary. Just two days after delivering, according to Wagner, women are flown home on a bush plane with their newborn.
Georgetown Bound
After two years as a labor and delivery nurse in Bethel, where her unit delivered 400 babies a year, Wagner decided to pursue her education as a nurse-midwife/women's health nurse practitioner at the School of Nursing.
"The dual degree really made Georgetown stand out, as well as the Jesuit values of the institution," said Wagner, who started the program while still working as a nurse in Bethel.
Pursuing an advanced degree through a distance learning program online allows her to stay close to Bethel.
"The Wi-Fi is really bad in Bethel, so I made the difficult decision to move back to Washington [state] to begin my studies," she said. "I missed Alaska the day I left."
But Wagner was able to work with her clinical advisor at Georgetown to facilitate completing some of her clinicals in the outpatient clinic in the hospital in Bethel.
Back to Alaska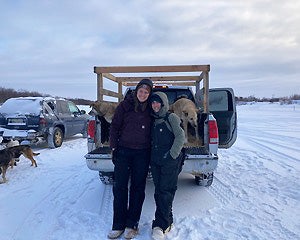 Wagner will have another opportunity to continue to provide care to Alaska Native communities as she completes her program at Georgetown and works as a labor and delivery nurse at a federally run Indian Health Services hospital in Anchorage.
"I'm excited for the opportunity to still work with the Alaska Native population and see another side of labor and delivery," said Wagner. "But my ultimate goal is to get back to Bethel."
The remote nature of the hospital in Bethel, which requires patients to fly in for care, leads many patients to miss appointments and not receive the care they need, according to Wagner. She hopes to address this problem in the future.
"Even if I don't do deliveries in Bethel, I think there is so much to do around prenatal and postpartum care in the communities to fill in gaps of care," she said.
Heather Wilpone-Welborn
GUMC Communications
Top Image: An aerial view of Brown's Slough winding through Bethel, Alaska. Credit: Mitchell Forbes / iStock / Getty Images Plus