Georgetown Appoints Transformative Nurse Leader as Dean of Newly Reconceptualized School of Nursing
December 15, 2021 — As she was growing up, Dr. Roberta Waite looked to her parents as role models. Her mother was a nurse, and her father a dentist.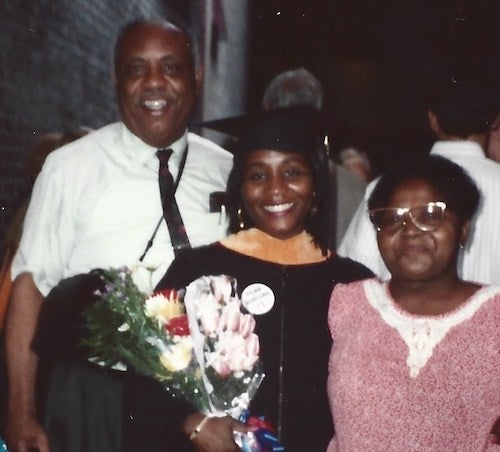 "My mother was a big inspiration for me becoming a nurse," said Waite. "She loved caring for the vets – so she worked at the Veterans Administration Hospital here in DC, as well as the one in Philadelphia. But she always talked so proudly of her work, what she did, and how she loved it and how she was so passionate about it."
Waite also had the opportunity to see health care in action as she worked within her father's office. While she considered becoming a veterinarian – she absolutely adores dogs – nursing ultimately won her heart.
During a recent interview in Riggs Library, one filled with inspiring conversation and a good bit of joyous laughter, Waite recalled just how proud her mother would be that her two grandchildren — Waite and her husband, Gene Lites,' adult children — had also become nurses. (Visit video interview.)
Transformative Nurse Leader
On July 1, Waite will begin service as dean of the newly reconceptualized and standalone Georgetown University School of Nursing — one that continues a nearly 120-year history of nursing education at Georgetown and will grow from the current School of Nursing & Health Studies.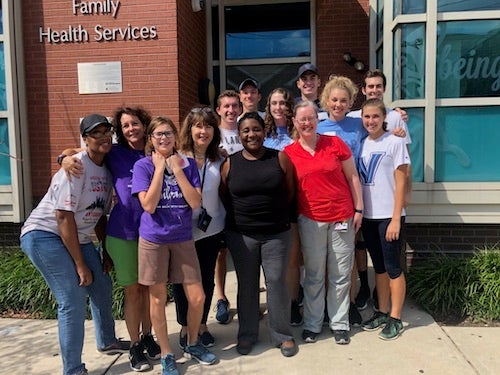 A fellow of the American Academy of Nursing and the Academy of Nurse Education of the National League for Nursing, Waite joins Georgetown from Drexel University, where she is a professor of nursing and executive director of the university's Stephen and Sandra Sheller 11th Street Family Health Services — a nurse-managed community-based organization that provides comprehensive care to thousands of individuals each year. (Read Waite's biography. Download high resolution photographs.)
"Dr. Waite will lead our new School of Nursing at this important moment and further elevate our longstanding work in nursing education, which began at Georgetown in 1903," Georgetown President John J. DeGioia said in a letter today to the university community. "She will help to advance our work to support formation, inquiry, and the common good."
Dr. Edward B. Healton, executive vice president of Georgetown University Medical Center, joined DeGioia in welcoming Waite. "Dr. Waite is an exceptional nurse leader with an unwavering dedication to educating future health care providers, ones who are grounded in values that align with our Catholic, Jesuit heritage with a particular focus on social justice."
"I am especially excited that we will benefit from her lifelong commitment – reflected in action – in support of racial justice, equity, inclusion and diversity," he said. "We are truly fortunate to have her leadership at this critical and energizing time on our Medical Center campus as we continue to advance our anti-racism and racial justice work." (Read Healton's letter.)
'Great Commitment'
Eric J. Hutto (G'22), a student in the Doctor of Nursing Practice Program, served on the search committee.
"I am beyond excited to welcome Dr. Waite as the new dean for the School of Nursing," he said. "I have no doubt she will positively embrace every aspect of the role."
"Furthermore, I believe she will display great commitment to the interests and concerns of students to foster an equitable community committed to safety, inclusivity, and antiracism," Hutto added. "This is an important moment for Georgetown University, and I am most grateful to see Dr. Waite at the forefront of this change."
'Lead With My Values'
Waite, who earned a doctorate in education, is a psychiatric and mental health clinical nurse specialist, has published widely in her field and secured consistent extramural funding, has held prominent positions on corporate and advisory boards and initiatives, and has been recognized for her career achievements.
To help frame all of these accomplishments, the incoming dean – who will first arrive at Georgetown May 1 as a professor of nursing – highlighted a photograph of herself holding a scale that a colleague created as a gift for her.
On one side of the scale, viewers observe the values that matter greatly to Waite in achieving "a culture of health," including anti-racism, equity, interdependence, and kindness. On the other side are destructive realities such as mass incarceration, poverty, racism, and violence.
"I lead with my values because my values are core." she said. "I believe my values align with Georgetown's because core values I would say of mine are supporting social and racial justice, valuing humanity, collective liberation, empathy, interdependence, having fun, humor, [and] kindness. Those are key things that really drive a lot of what I do."
Next Generation of Nurses
Infusing values and a deep appreciation for the wholeness of patients' lives – in acute care, at home, and within the community — is Waite's focus, one that reflects major recent publications such as The Future of Nursing 2020-2030: Charting a Path to Achieve Health Equity and the new Essentials of the American Association of College of Nursing.
"I really want to see nurses educated to be responsive to individuals within society," Waite said, noting the importance of generating "solutions that are culturally relevant," implementing these ideas, and evaluating them.
Key among this work is "taking a critical lens to understand the social and the structural mechanisms that actually detract from health and those things that enhance health," she said.
 "I know we can do better," Waite added. "Based on our own code of ethics through nursing, which is grounded in social justice, we have to do better."
Walking Through Healy Gates
During a beautiful December morning, Waite arrived to Washington for a return visit to Georgetown, walking through the iconic gates at 37th and O Streets NW and onto the campus that will become her professional home.
"I entered the exact same place when I came in as a candidate," she said, remembering a previous visit in August during the search process. "For me, it was so inspiring because it was a lot of activity. Students were here, parents were here, people were just bustling. … Everybody that I met was so warm, was so friendly, was so inviting."
She added, "When I went back home, I actually told my husband, 'I could see myself there because I felt like I belonged. … You know, I really felt like I was welcomed.'"
While the DC weather was certainly cooler and much less humid on her more recent trip, the enthusiasm remained constant. "That was great today when I stepped through [the gates]. It was so exciting because, to me, this is my new work home. So looking at things now, it was a little bit different because my lens is a little bit different," Waite said.
'A People Person'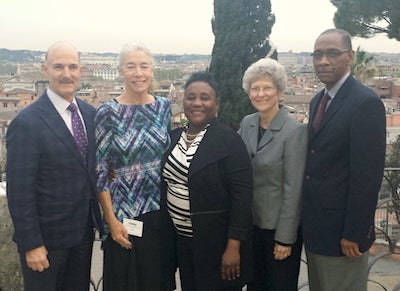 As she reflects on her coming deanship, Waite very much looks forward to the opportunity to get to know all of the people who make Georgetown a special place, to build new relationships, and to lead the School of Nursing into the future.
 "I want to engage with community in so many different ways," she said. "I'm very much so a people person. . . . So really being able to cultivate relationships with all of the different community members, from colleagues, faculty, staff, students, families, alumni, both in-person and distant, MedStar colleagues, as well as our community stakeholders is going to be important."
For Waite, "showing up … is a big thing." She noted, "That could be at events. That could be going to lunch. That could be having coffee. That could be sitting and having a conversation on the lawn. … I really want to make sure that I engage and I invite people to get to know me, and I want to be able to get to know them as well."
The Next Chapter
Waite described "great opportunity" for the nursing school. "I know there's so much that we want to do and that we need to do," she said, highlighting her goal of building the organization alongside "awesome students," faculty, staff, alumni, campus colleagues, and the DC community.
"I'm just overjoyed," she said. "I am very excited. This is like the new chapter in my life, and I'm looking forward to see what words are going to be written on the pages."
View captions for these images
Clockwise from top left: Dr. Roberta Waite being inducted as a fellow of the American Academy of Nursing, during her BSN studies, with her son at his graduation, with her husband and daughter during her daughter's graduation, being inducted as a fellow of the Academy of Nursing Education, and holding a book she coauthored, Attention Deficit/Hyperactivity Disorder Throughout the Life Span: Research, Diagnosis, and Treatment.


By Bill Cessato, who interviewed Dr. Waite along with Mike DeRario