Nurse-Midwifery Alumna on a Mission to Improve Maternal Health in Zanzibar
(March 17, 2023) — Driven by the belief that women should not have to put their life at risk if they chose to become pregnant, nurse-midwifery alum Nafisa Jiddawi (NHS'14), FNP-C, WHNP-BC, CNM, returned to her home country, Tanzania, to establish the nation's first holistic wellness center dedicated to women's health promotion and disease prevention.
"Nafisa was an incredible midwifery student with a clear vision of how she was going to take her training here in the United States to benefit mothers, babies and families back home in Zanzibar," said Christina Marea, PhD, MA, MSN, FACNM, assistant professor in the School of Nursing.
An American Education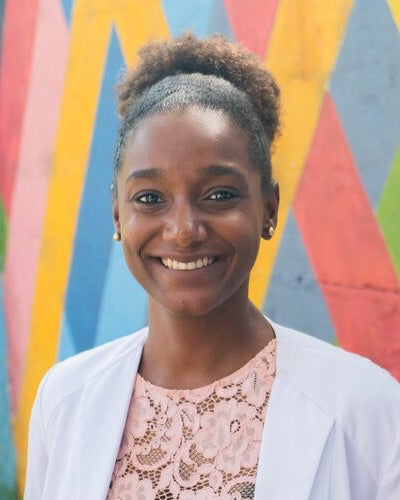 Jiddawi grew up in Zanzibar, an island off the coast of Tanzania, with physician parents who wanted Jiddawi to experience an American education. When she was 12 years old, her parents arranged for her to live with family in the U.S. in Cambridge, Massachusetts. Jiddawi's mother accompanied her for the first six months of her relocation, but then she only saw her family intermittently during summer and holiday breaks from school.
"It was very tough to move to the United States," said Jiddawi. "I spoke limited English and my reading comprehension was quite low. But I went into a kind of survival mode. I felt like I had a purpose to pursue my education, and that's what I focused on."
Jiddawi overcame an initial reluctance to pursue a career in medicine to study nursing at the University of Massachusetts, Amherst.
"Seeing what my parents went through growing up made me not want to go into the medical field," said Jiddawi. After noting that her parents were two of just 10 doctors in the 1990s in Zanzibar, Jiddawi added, "I saw them constantly working, it looked crazy to me. We lived right next to Zanzibar's only tertiary hospital at the time, and people would just stop by our house and knock on our doors seeking help at all hours of the day and night."
But these memories were informative, and ultimately led Jiddawi to want to pursue preventive medicine. "I realized that people wouldn't be knocking on our doors if they weren't sick," Jiddawi said. "I had a passion developing to pursue preventive medicine and make structural changes."
During a trip home to Zanzibar while in college, Jiddawi began to focus on public health issues related to women's health. She volunteered on a project with the Ministry of Health in Zanzibar to collect the archipelago's initial maternal mortality data, which was very high.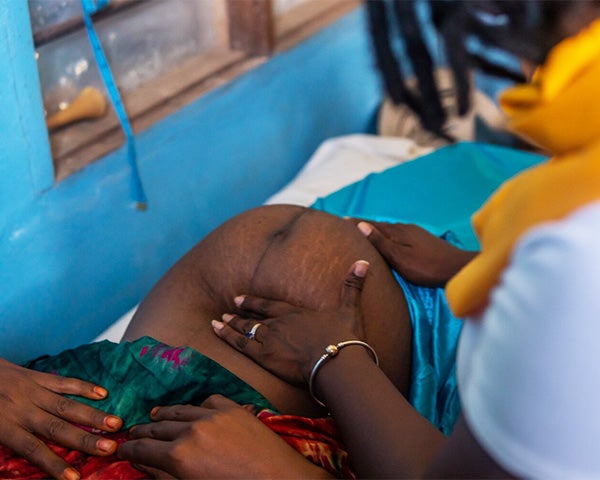 "After going through the maternal death books and seeing the causes of deaths, I kept thinking, these women did not have to die giving birth. Most of the deaths could have been prevented," said Jiddawi.
The Nurse-Midwifery/Women's Health Nurse Practitioner (NM/WHNP) program at Georgetown allowed Jiddawi to expand her role as a nurse in providing care for people on an individual level and to think more broadly about public health, especially women's health.
Returning with a Mission
After a positive birth experience of her own in 2017, Jiddawi could not shake off the memory of how much women were suffering through difficult birth experiences back home in Zanzibar.
"I tried but I just couldn't look the other way after the birth of my daughter," Jiddawi said. "Why couldn't other women have this same beautiful experience? I had to go back [to Zanzibar]."
Within six months, Jiddawi would relocate her family and establish her own medical practice, WAJAMAMA. "My husband was very supportive as we packed up our whole lives, including a 6-month-old and 2-year-old, and moved across the world," said Jiddawi.
Her parents, on the other hand, "looked horrified." "They had used their life savings for me to go to the United States and now I'm returning to Zanzibar," Jiddawi said. "But my grandmother was a midwife here, and I just felt this was my legacy."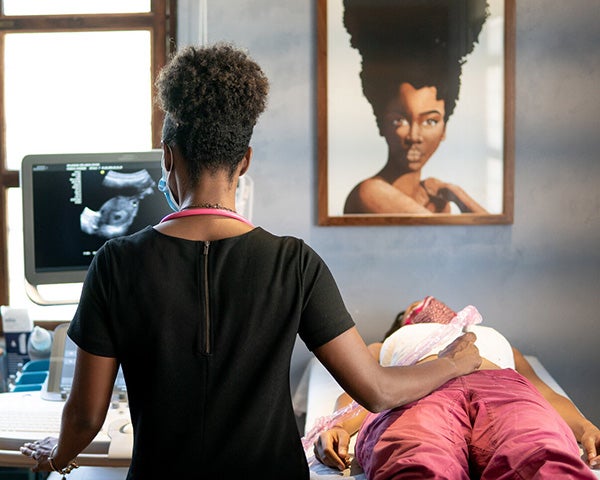 WAJAMAMA is a woman-led NGO hybrid with a for-profit clinic and nonprofit foundation. The clinic focuses on health promotion and disease prevention through a holistic model, whereas the foundation is focused on improving the health of women and their families from disadvantaged socioeconomic backgrounds in Zanzibar.
According to Jiddawi, approximately 50% of births occur at hospitals in Zanzibar where women are frequently subjected to abuse. "Some of the women that we serve say that they don't want to give birth in hospitals because of the treatment they may face — I have even witnessed women getting slapped in the face for making noise or vomiting," she said.
Jiddawi has witnessed physicians climbing on top of women to provide fundal pressure with their elbows during deliveries. Uterine rupture is also a common occurrence at the hospitals. 
"At one of the main hospitals here, the maternal mortality rate is around 600/100,000, which is really high," Jiddawi said. "But you start to understand why when you just walk around. The maternity ward is overcrowded and it is not uncommon to see three women sharing one bed — sometimes sitting in each other's bodily fluids."
Jiddawi describes the care provided by hospitals in Zanzibar as a "broken system" where many are underpaid, overworked, and expected to do more than what they are properly trained for. "The government and other stakeholders have been working hard to address these issues but we have a long road ahead that will require a lot of collaboration and partnerships," she said, "one day we will get there." 
Building for a Better Future
Jiddawi arrived in Zanzibar intent on providing American standards of care as well as holistic services.
"Women frequently are not getting prenatal care, and so they are arriving unhealthy for substandard care delivery — it's a cycle setup for failure," said Jiddawi. In order to break the cycle, Jiddawi sought to build a practice where women were equipped for a healthy pregnancy with high-quality prenatal care and for a safer delivery with knowledge to advocate for the care they need for their bodies.
One patient's story embodied the mission of Jiddawi's work. The patient attended WAJAMAMA for her prenatal care and continued to present with high blood pressure at 35 weeks pregnant. Fearing the risk of preeclampsia, WAJAMAMA staff referred the patient to the local hospital multiple times, which would treat her by giving her fluids and sending her back home. With the continued support of WAJAMAMA staff, the patient advocated for herself to be admitted to the hospital, and within a week safely delivered a baby boy.
"The patient later called and thanked us, because her sister-in-law was also pregnant at the same time with high blood pressure and she died of preeclampsia," said Jiddawi. "Our patient could have died or lost her baby or both, but because we were on top of it and because she advocated for herself, now both she and the baby are healthy."
"We're not saving thousands of lives at a time, but we are making an impact by setting standards," she added.
Jiddawi also brought a model of group prenatal care developed by Sharon Rising, MSN, that she first learned about as a student at Georgetown while completing her clinicals at MedStar Washington Hospital Center. The model sorts pregnant women into cohorts to complete their prenatal visits as a group, including not only measurements of the belly and fetal heartbeat, but also group discussions about maintaining healthy pregnancies and taking care of newborns.
"Going through their pregnancies and preparing for labor and delivery together is super empowering for these women," said Jiddawi who estimates that 100 women have now delivered after completing group prenatal care with WAJAMAMA.
Holistic care services provided by WAJAMAMA include the first women's fitness space in Zanzibar. With their community garden, WAJAMAMA also incorporates nutrition into their practice by showing women and their families how to grow fresh vegetables in their backyards.
Part of WAJAMAMA's expansive mission also includes nurse-midwife workforce development in Zanzibar. For this, Jiddawi is partnering with her former professor from Georgetown, Marea, along with faculty at the State University of Zanzibar on a new initiative to enhance clinical training for future nurse-midwives in the country.
Jiddawi is proud of the standards for maternal care she and her team are setting but is also conscious of the sacrifices, especially in opportunities for her own children, in choosing to return to Zanzibar instead of practicing in the United States.
As for her parents, "it depends on the day," said Jiddawi. "They see me battling up against a wall every day and it's hard, but they are really proud of what we are doing here."
Heather Wilpone-Welborn
GUMC Communications
Image credit: All photos taken by Lauren Rattray of Luluray Photography.