NHS Class of 2022 Celebrates Their Shared Calling to Pursue Vocations in Health
(May 22, 2022) — The graduates and undergraduates of the School of Nursing & Health Studies convened for the final time for commencement on Healy Lawn.
"Looking ahead, this is an exceptional time for you all to make a difference as future leaders," John Monahan (C'83, L'87), JD, NHS interim dean, said during the May 21 ceremony.
"This pandemic has laid bare the agenda that lies ahead: supporting the service and honoring the heroism of nurses and others that provide direct care for the whole person, getting real about persistent health inequities at the local, national and global level, and addressing socioeconomic factors that we all know are more powerful than health care in determining health outcomes for people everywhere," he added.
Of the 404 NHS graduates in the Class of 2022 participating in this year's commencement ceremony, 113 earned Bachelor of Science degrees, 247 earned Master of Science degrees and 44 earned doctorates: 19 graduates who earned Doctor of Nursing Practice degrees and 25 Doctor of Nurse Anesthesia Practice degrees.
'What Will Define You?'
Sister Norma Pimentel, MJ, executive director of Catholic Charities of the Rio Grande Valley, addressed the graduating class as the commencement speaker. Before she began her address, Georgetown President John J. DeGioia conferred the degree of Doctorate of Humane Letters, honoris causa, to Pimentel for her mission-oriented work to promote the human dignity and flourishing of immigrants and refugees.
"The excitement in your faces shows this is a special time to celebrate. Felicidades Class of '22!" Pimentel said. "I hope you can get in touch with yourself as graduates starting a new chapter in your life and decide who you are and what you stand for."
Pimentel began her remarks recounting the moment that defined her life at the age of 25 when she made the choice to stay at a protest for the rights of immigrants fleeing the war in El Salvador that resulted in her arrest.
"I am here today because of that one time I said, 'Yes, I will stay,'" Pimentel said. "If we run away when things get tough, then we don't stand for anything.
"Your presence, your voice, your actions matter," she said. "What will define you?"
Pimentel also recounted another experience she had with a Haitian mother immigrating to the United States with her baby.
"I saw the fear in her eyes," she said. "She desperately wanted a place to shelter for her baby and to be safe. These are the people that we must help.
"Stand up for the rights of others," Pimentel said. "Be that voice that allows them to have a voice.
"Go out and do the best you can."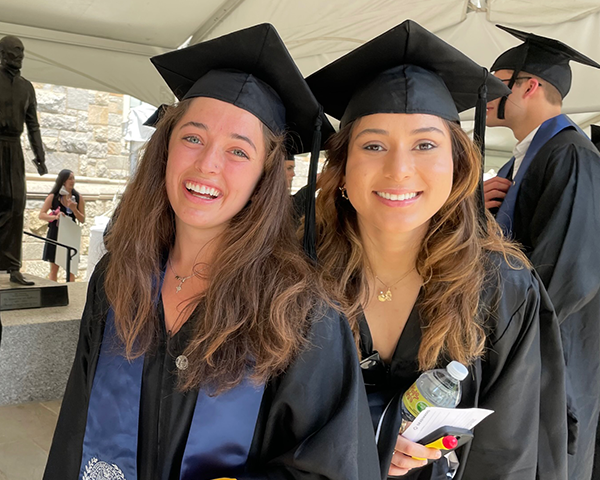 'Part of a Family'
"Being an NHS graduate means being part of a family that we'll continue to have going forward," Mallory Hybl (NHS'22) said at the ceremony.
NHS student speaker Escadar Alemayehu (NHS'22), who spoke at the school's Tropaia ceremony on May 20, echoed Hybl's sentiments.
"NHS creates a specific kind of person — a kind, caring person who cares deeply, not just about a problem but the people who are affected by it," Alemayehu said.
"Everyone graduating from NHS has a calling to do — to work and care for others," she added.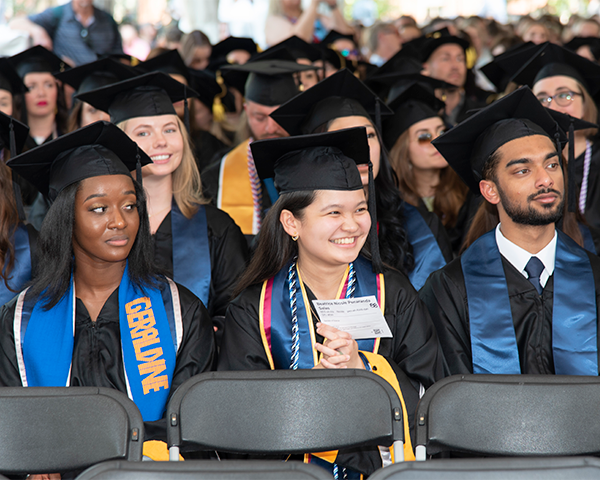 Pursuing Your Vocation
"You have chosen a vocation to care, to serve, to advance health," DeGioia said. "Your vocation becomes your way of serving the world.
"We are deeply grateful for all the contributions you have made to this community, and we look forward to the ways your leadership and service will contribute to the common good of our broader communities."
Heather Wilpone-Welborn
GUMC Communications