Medically Unable to Give Blood, BSN Student and Cancer Survivor Organizes Blood Drive So Others Can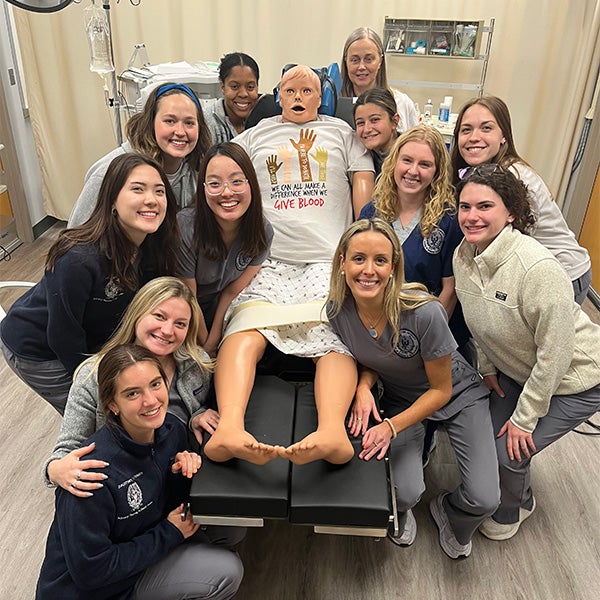 (April 5, 2023) — Driven by a personal experience with the lifesaving power of donated blood, a senior in the School of Nursing's Bachelor of Science in Nursing program, along with her classmates, organized a daylong blood drive at Georgetown to help save others.
"We had 46 blood donations," said Alyssa Marino (N'23), about the March 31 drive in the O'Neill Family Clinical Simulation Center in St. Mary's Hall.
"Each blood donation is separated into red blood cells, plasma and platelets," she added. "That means that each person who donated helped save three lives!"
Grateful to Her Donors
According to the American Red Cross, every two seconds, someone in the U.S. needs blood, and it is essential for surgeries, cancer treatment, chronic illnesses and traumatic injuries.
Marino was once one of those in need of donated blood.
"I was diagnosed with Hodgkin's lymphoma when I was 13 years old," said Marino. "I remember all the times I needed blood transfusions while I was getting treatment, and I have all of the amazing donors to thank for that."
Marino, however, wasn't one of the donors during the drive.
"Unfortunately, since I had blood cancer, I will never be able to donate my own blood, so planning this blood drive is the best way for me to give back," she said.
Marino, who plans to start her nursing career at Children's National Hospital after graduation in May, said being a nursing student also allows her to see the many other ways blood transfusions are needed.
"On labor and delivery units, postpartum mothers receive blood transfusions to prevent hemorrhage and bleeding after birth," she said. "Trauma patients need blood to replace any that was lost as a result of their trauma."
Many of the slots for the blood drive were filled by students from other Georgetown schools.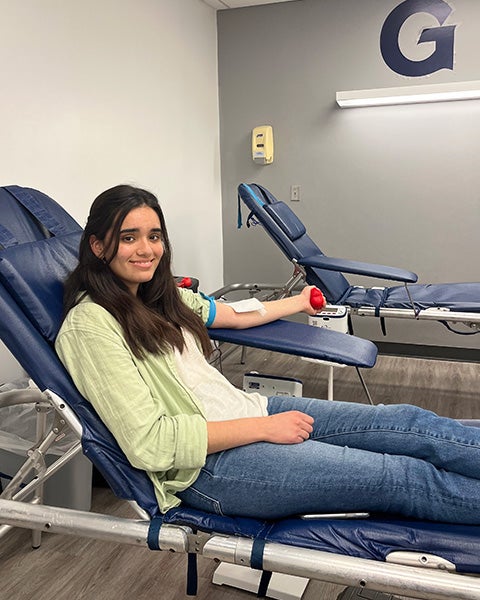 Audrey Douches (C'23), a senior in the College of Arts & Sciences, was a first-time donor. "I decided to give blood because I wanted to give back to the local community and potentially help save someone's life," she said.
Mirabai Sinha (C'25), an American Studies major, shared that motivation. "I see donating blood as a simple way to give back that I know will have a direct and immediate impact on others' lives."
Ignatian Values in Action
BSN students Karina Han (N'23), Margarita Sokolenko (N'23), Grace Sawyers (N'23), Naomi Eluojierior (N'23) and Eleanor Reiner (N'23) also helped organize the drive and worked on the many aspects of the event, including marketing to recruit donors and supporting the Inova Blood Donor Services staff who collected the blood.
"We also had a lot of nursing students volunteer, as well as graduate students and EMTs," Marino said.
"This service connects to Ignatian values including courage, love, healing and hope," said BSN program director Sarah B. Vittone, DBe, MA, MSN, RN. "Ignatian reflection on these values leads to action — an important part of growth in our learning community."