Mara Evans Joins Nurse-Midwives Delegation to UAE
(December 9, 2022) — Mara Evans, DNP, CNM, an instructor in the nurse midwifery program at Georgetown's School of Nursing, joined a select group of midwives from the United States in representing their profession as part of a professional exchange program to the Middle East.
The weeklong visit to Dubai and Abu Dhabi in the United Arab Emirates was designed for participants to gain an understanding and appreciation for midwifery education, regulation and practice in the country.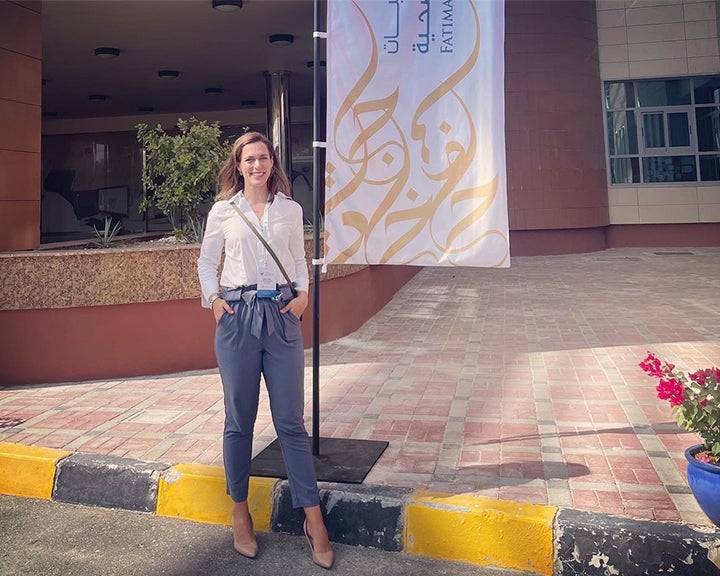 The group of about 25 midwives represented diverse backgrounds in midwifery practice, including homebirth midwives, epidemiologists, hospital-based midwives, researchers, humanitarian workers, and midwives growing or establishing midwifery education programs. They visited two hospitals, a new midwifery school, and met with members from UAE's Ministry of Health and Prevention.
The delegation participated in formal and informal discussions, including briefings with government and academic officials, enjoyed open and direct dialog with colleagues, and took part in interactive professional site visits. The group learned about midwifery education, regulation and practice in the United Arab Emirates; gained an appreciation of cultural and clinical practice differences between the United States and the UAE; learned about cost and reimbursements systems; and discussed best practices for common clinical midwifery clinical issues.
"For me, travel is an excellent perspective-builder," Evans said. "I love learning how other people are living their lives, the experiences of pregnant people, and the reminder that even halfway across the world midwives are experiencing the same struggles and raw joy of birth work." 
The mission was led by Cathy Collins-Fulea, DNP, CNM, FACNM, past-president of the American College of Nurse-Midwives, and was sponsored by the Cultural Vistas Citizen Ambassador program, a nonprofit, non-governmental organization based in Washington.
"The trip was an incredible opportunity, with midwives from all over the U.S. coming together to connect with our counterparts in the UAE," Evans said. "Friendships were made, and the power of so many midwives together was quite rejuvenating." 
Evans has participated in other global health activities, including two missions with Doctors Without Borders in South Sudan, where she cared for women affected by female genital mutilation and promoted capacity-building of national midwives through didactic lectures, hands-on simulation, and bedside teaching.
The midwifery program at Georgetown marks its 50th anniversary in 2023.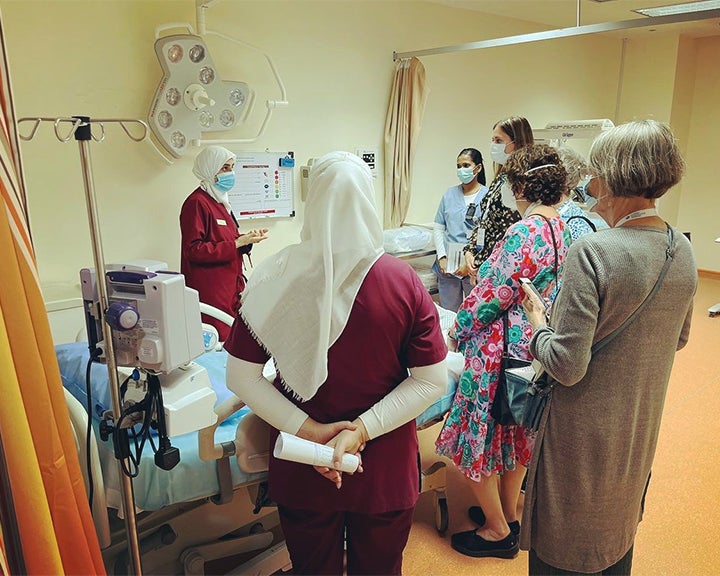 Randa Mohammad, a midwife from Jordan, shows delegates a birthing room at EHS Al Qassimmi Women and Children Hospital Hospital.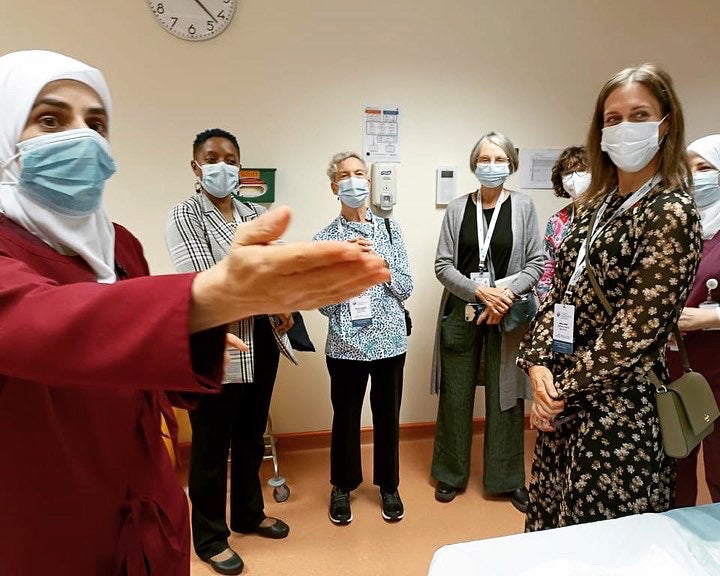 (From left) Randa Mohammad explains hospital birthing practices to Char'ly Snow, Teresa Marchese, Rebeca Ullman, Mary Barger, a UAE midwife and Evans.
A nursing student assesses a newborn baby at EHS Abdullah Bin Omran Hospital located in the emirate of Ras Al Khaimah.
[Top of Page Image] At EHS Al Qassimmi Women and Children Hospital Hospital in Sharjah a Jordanian midwife, Randa Mohammad, gave the delegates a tour. In a country where citizens make up a minority of the population, most midwives are expats recruited from abroad. Midwives from left to right: Randa, Mara Evans, Teresa Marchese, Mary Barger, Rebecca Ullman, Char'ly Snow.