Incoming Nursing Dean Calls on Graduates to 'Be Champions of Change' at Blessing of Hands Ceremony
(May 22, 2022) — In her first keynote address, delivered at the 2022 Blessing of the Hands ceremony, Roberta Waite, EdD, RN, PMHCNS, ANEF, FAAN, dean-select of the new School of Nursing, called on the graduates to "demand the creation of systems that are truly equitable" in delivering care.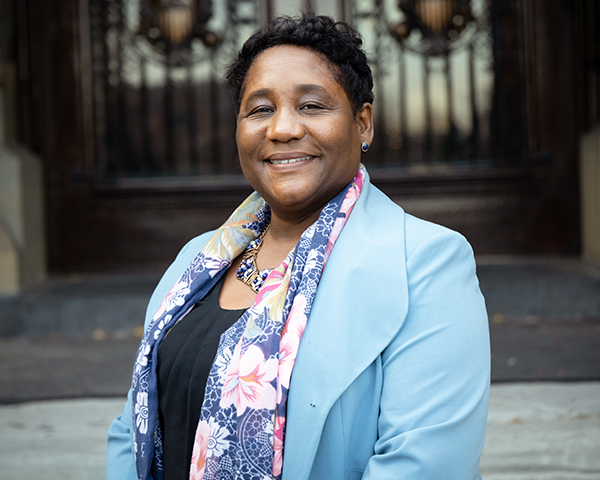 The cherished and time-honored ceremony, held May 20 in Lohrfink Auditorium, brought together graduates from the Women's Health Nurse Practitioner (WHNP) and Nurse Midwifery/Women's Health Nurse Practitioner (NW/WHNP) programs at the School of Nursing & Health Studies.
Though Waite was unable to attend the annual rite of passage, her written remarks were delivered by Mary S. Haras, PhD, MBA, APN, NP-C, CNN, associate professor and chair of the Department of Advanced Nursing Practice.
"You are needed to be champions of change," Waite wrote. "I implore you to be bold and audacious in your thinking and unapologetic in actions as you strive to promote health equity for those that you are caring for."
She pointed out the many reasons for inequitable health outcomes, including segregation, the impact of gentrification and structural racism. "This means we do not deliver the same care to everyone," Waite wrote. "People need different resources to enable them to thrive in life."
Waite said that Georgetown's values-based education would benefit the new midwives and women's health nurse practitioners as they strive for equity.
"We must recognize that moments of opportunities pass if you don't take them to create the change, to produce health and healing."
Spiritual Ceremony
Blessing of the Hands is a special tradition at Georgetown and beyond that marks a "moment in time when nurses become part of the midwifery and women's health advanced practice nursing profession," said Melicia Escobar, DNP, CNM, WHNP-BC, FACNM, clinical faculty director of the NM/WHNP and WHNP programs.
During the ceremony, the graduates were presented to the faculty and one by one, each opened their hands to receive essential oils symbolizing the care of and blessing of the hands.
It is "a spiritual ceremony that recognizes the importance of our therapeutic and healing touch and the caring that is conveyed through one's hands," said Heather Bradford, PhD(c), CNM, FACNM, assistant program director of the NM/WHNP and WHNP programs.
2,300 Babies 'Caught'
During their Georgetown graduate program, the 95 NM/WHNP and WHNP graduates cared for over 64,500 people, managed over 83,700 cases, labored with over 4,100 people and caught over 2,300 babies.
"Your educational and clinical experiences at Georgetown have provided you with the foundation to be able to conduct annual exams, write prescriptions, provide nutrition, counseling, educate patients and parents and conduct reproductive health visits… in addition to catching those babies and caring for them in those first 28 days," Haras said in her own remarks.
"I would like to congratulate you and recognize your resilience in these difficult times," she added. "I'm humbled by your strength and your perseverance."
From Passion to Calling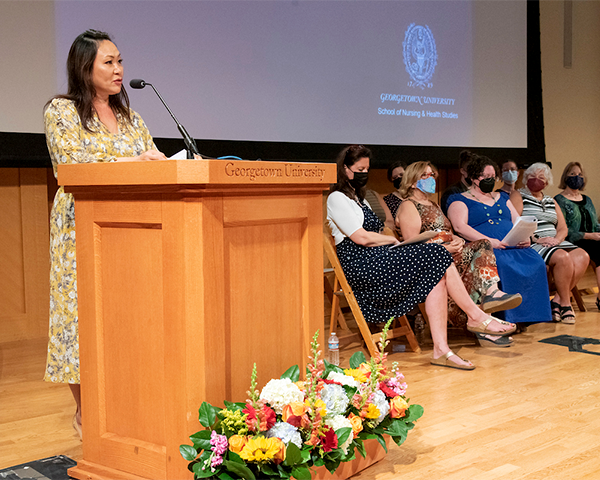 In her student address on behalf of the NM/WHNP graduates, Kerry Autry (G'22) said Georgetown "took her passion and gave her a calling." Autry was unable to attend the ceremony and asked her classmate, Cara Cuc Sheppard (G'22), to deliver her written remarks.
Echoing Waite's remarks about the social and the structural mechanisms that detract from health, Autry wrote, "I know we can do better based on the code of ethics through nursing, which is grounded in social justice. We have to do better."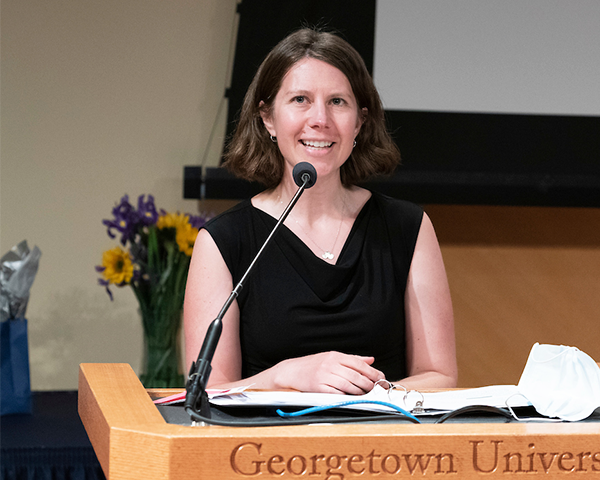 Cassie Bronson (G'22), the student speaker selected to represent the WHNP Program also promoted nurse practitioner advocacy.
"We make changes in our communities — impact policies and improve equity," she said. "We promote the vision of Georgetown and serve as a catalyst for social justice."
Autry also gave a nod to the nurse educators who "worked endlessly to support us through this unprecedented pandemic."
"At Georgetown, our faculty have challenged us to meet people where they are, honor each story and to partner with those we serve to create holistic wellness."
Karen Teber
GUMC Communications