Georgetown Double Alum Eileen Ferrell Retires from Chief Nursing Post at MedStar Georgetown University Hospital
(January 26, 2023) — After 30 years of committed service to MedStar Georgetown University Hospital, Eileen Ferrell, MS, BSN, RN, the hospital's chief nursing officer (CNO) will retire on February 1.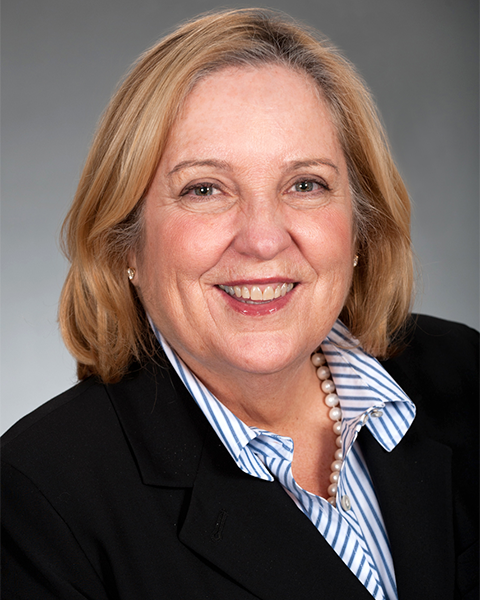 Ferrell (N'75, G'83) began her career as a nurse at the hospital after graduating with her bachelor's degree in nursing from Georgetown's School of Nursing & Health Studies (now School of Nursing and School of Health). Soon after, she received a Robert Wood Johnson Scholarship to pursue a master's degree in health services administration at Georgetown.
Ferrell returned to work at the hospital in various capacities, including her longtime role as director of nurse recruitment and retention. She was named senior vice president and chief nursing officer in 2012.
"The mission, vision and values I was exposed to at Georgetown and those that were instilled by my parents are core to what I do every day," said Ferrell. "Cura personalis, care of the whole person, is the basis for care of our patients, their families and each other in my practice."
Mike Sachtleben, president of MedStar Georgetown University Hospital, described Ferrell as a mentor guiding nurses and other leaders in their careers.
"Eileen's positive energy and her fierce advocacy for nursing, as well as an interdisciplinary and collaborative approach to nursing, has never wavered," said Sachtleben.
MedStar Georgetown became the first hospital in Washington to be recognized with Magnet® status by the American Nurses Credentialing Center. The prestigious designation has been awarded four consecutive times to MedStar Georgetown, with the fifth Magnet designation application under review.
"This designation can only be attained through the highly functional and collaborative work between all departments and associates here at MedStar Georgetown," Ferrell said in 2018 after the hospital received the fourth designation. "It also means our nurses are involved in clinical research and performance improvement, all in the best interests of our patients."
As CNO, Ferrell provided strategic direction and leadership for operational departments, including Clinical Nursing, Respiratory Therapy, and Mission and Pastoral Care.
In the past year, Ferrell relaunched a key relationship involving nurse education at Georgetown with the new dean for the School of Nursing, Roberta Waite, EdD, RN, PMHCNS, ANEF, FAAN. Ferrell said the relationship between Georgetown and MedStar Health will continue to grow and evolve.
One program that will launch in the next year is a unique perioperative nursing course that will educate nursing students in the class and in the perioperative suite in MedStar Georgetown's new Medical/Surgical Pavilion.
"Eileen has set in motion a pathway for our institutions to further develop an important relationship that will result in outstanding opportunities for our nursing students across the MedStar system and contribute to the development of high-quality nursing professionals for MedStar Health," said Waite.
"I serve as the co-chair of the school's board of advisors and am thrilled to have Dr. Waite as our new dean," Ferrell said. "She is dynamic, inclusive, bright and full of wonderful ideas."
Sachtleben said Ferrell's strong leadership was most apparent during the height of the COVID-19 pandemic as she demonstrated an inspiring commitment to protecting the safety of staff, patients and families at the hospital.
Sachtleben added that over her 30-year career, "She has worked tirelessly to foster a positive culture of professionalism, camaraderie, and kindness, all centered around cura personalis — care of the whole person."
Ferrell said that after retirement, she plans to spend more time with her six grandchildren and travel.
Ferrell is a member of Sigma Theta Tau, the American Organization of Nurse Executives, the School of Nursing Board of Advisors, and various community organizations. Upon Ferrell's retirement, Jo Ellen Carpenter, DNP, MBA, RN, NEA-BC, CENP, will assume the role of senior vice president and chief nursing officer. She joined MedStar Georgetown in 2014 as the assistant vice president for nursing operations.
"Like Eileen, Jo Ellen is dedicated to providing educational opportunities for nurses and nursing students," added Waite. "We have big plans!"