For Nearly 30 Years, GU Professor's Textbook Has Taught Nursing Fundamentals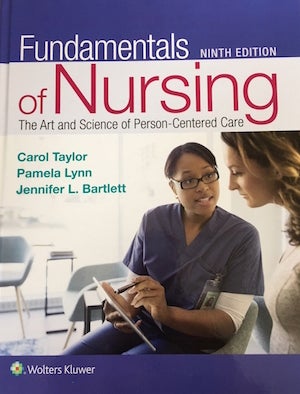 SEPTEMBER 25, 2018 – In the mid-1980s, Carol Taylor, PhD, RN, was asked by the publishing house Lippincott Williams & Wilkins to help revise a well-established textbook on the fundamentals of nursing.
"I loved teaching nursing fundamentals and was anticipating starting doctoral studies shortly at Georgetown University so it seemed like a perfect opportunity," recalls Taylor, who went on to earn her PhD in philosophy.
Taylor, an ethicist and professor of advanced nursing practice at the School of Nursing & Health Studies, remembers working for several months on the assignment before the publisher made a new offer: develop a brand new textbook on nursing fundamentals.
"Needless to say, my commitment grew immediately," Taylor says. "Now the invitation became really challenging."
'My Passion'
This fall, nearly 30 years after the first edition, Fundamentals of Nursing: The Art and Science of Person-Centered Care, is appearing in its ninth edition with Taylor and two of her colleagues – Pamela Lynn, EdD, RN, and Jennifer L. Bartlett, PhD, RN-BC, CNE, CHSE – as its current editors and main authors.
"My passion is and has always been to prepare the next generation of competent, compassionate, and responsible professional nurses," says Taylor. "From the first edition onwards, I have focused on what I called the 'blended competencies' needed for professional nursing, including intellectual, interpersonal, technical, and ethical and legal. This focus was unique at the time."
Taylor says the content of the newest edition reflects shifts in health care during the past three decades.
"This latest edition has a greatly expanded unit on the changing health care delivery system and population health," she says. "It also provides fuller coverage of the social determinants of health, health disparities, mental health issues, safety and quality issues, and new and advancing technologies."
Paper and Pencil
The roughly 1,800-page textbook is divided into seven units and 45 chapters. It is accompanied by a "fully integrated course experience" that includes a variety of supplementary materials such as quizzes, study guides, and videos for professors and students.
Its content, Taylor quips, is not the only thing that has changed since the textbook's original version.
"When I did half of the first edition of this text I did not have a computer so I wrote all my chapters in pencil on a yellow legal tablet," she says. "Lippincott paid someone to type for me."
Her overarching goal, however, has remained unchanged. "I know how hard it is to be an excellent nurse, and we want to equip students with the best information to excel," she says.