Following Successful Breech Birth, Alumna Credits Simulation, Faculty Mentorship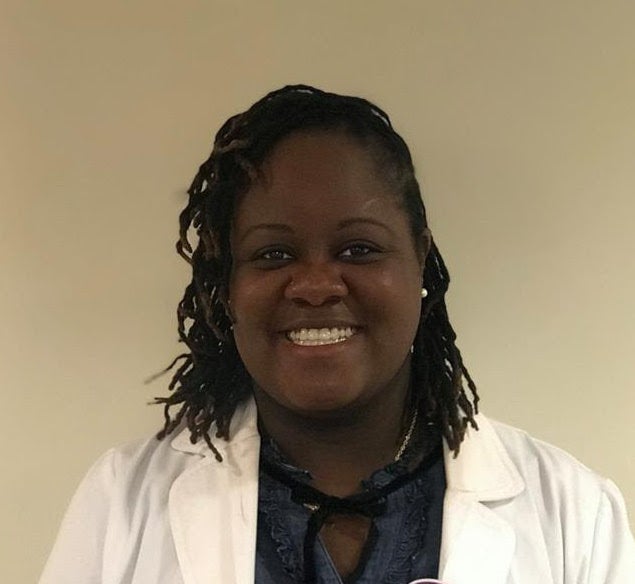 SEPTEMBER 4, 2018 – During a recent night in her clinical practice, Veniese Lawrence (G'17), MS, CNM, experienced something she had only witnessed in graduate school during a simulation exercise: delivering a breech birth.
Lawrence graduated from Georgetown's Nurse-Midwifery/Women's Health Nurse Practitioner Program, where she completed more than a thousand hours of clinical education as a part of the 49-credit master's program.
But it was a simulation exercise during one of the online program's three on-campus intensives (OCI) that gave Lawrence the confidence she needed, first, to educate the family and, then, to deliver the newborn.
'Greatest Bonding Experience'
"The only experience I had with a breech was during OCI where you showed me how to deliver a breech with a very slippery doll," Lawrence wrote to her Georgetown professor Cindy Farley, PhD, CNM, FACNM. "I did not panic, and in that moment, I quickly explained to the patient and her family the situation."
A birth is called breech when "a baby's feet or buttocks are in position to deliver first," according to the Office of Women's Health at the U.S. Department of Health and Human Services.
After a successful delivery in collaboration with a team of nurses and physicians, Lawrence handed the baby to his mother. Soon, she recalls, "everyone was smiling." 
"Thanks to your teachings, I always thank my patients after each birth," Lawrence writes. "After this birth, I felt as though this was the greatest bonding experience I could ever have with a patient."
Health Disparities
Lawrence, who was raised in Jamaica and now practices with seven midwives and six physicians in Pennsylvania, hopes to go back to school to earn her doctor of nursing practice (DNP) degree with the specific aim of looking at the health disparities that black women face, as well as rates of maternal mortality.
To Farley, her onetime professor, she writes: "Thank you so much for instilling certain 'midwifery values' in me. I had to share this story with someone who knew the journey I went through in school."