BSN Seniors Receive White Coats, Take Pledge After Pandemic Delay
(April 25, 2023) — Seniors in the School of Nursing's bachelor of science in nursing (BSN) program celebrated their ceremonial first steps into their professional careers with a white coat and pledge ceremony on April 18 as faculty welcomed them to the nursing profession.
Faculty and family members (virtually) at the event held on the rooftop of St. Mary's Hall witnessed the 31 members of the BSN class of 2023 recite the nursing pledge after receiving their white coats. In keeping with tradition, faculty led the "blessing of the hands," a spiritual moment meant to recognize the importance of the healing touch. The induction into the profession, typically held at the beginning of the students' junior year, was delayed for this class due to the COVID-19 pandemic.
Following the ceremony, the soon-to-be-graduates presented their senior research projects during a poster session and oral presentation.
Scenes from the Day
White Coat and Pledge Ceremony
"The white coat is about professionalism and adds a sense of accountability, pride and accomplishment that you have achieved in your academic journey," said Sarah Vittone, DBe, MA, MSN, RN, director of the BSN program, before students were individually called to be outfitted in their white coats with the assistance of nursing faculty.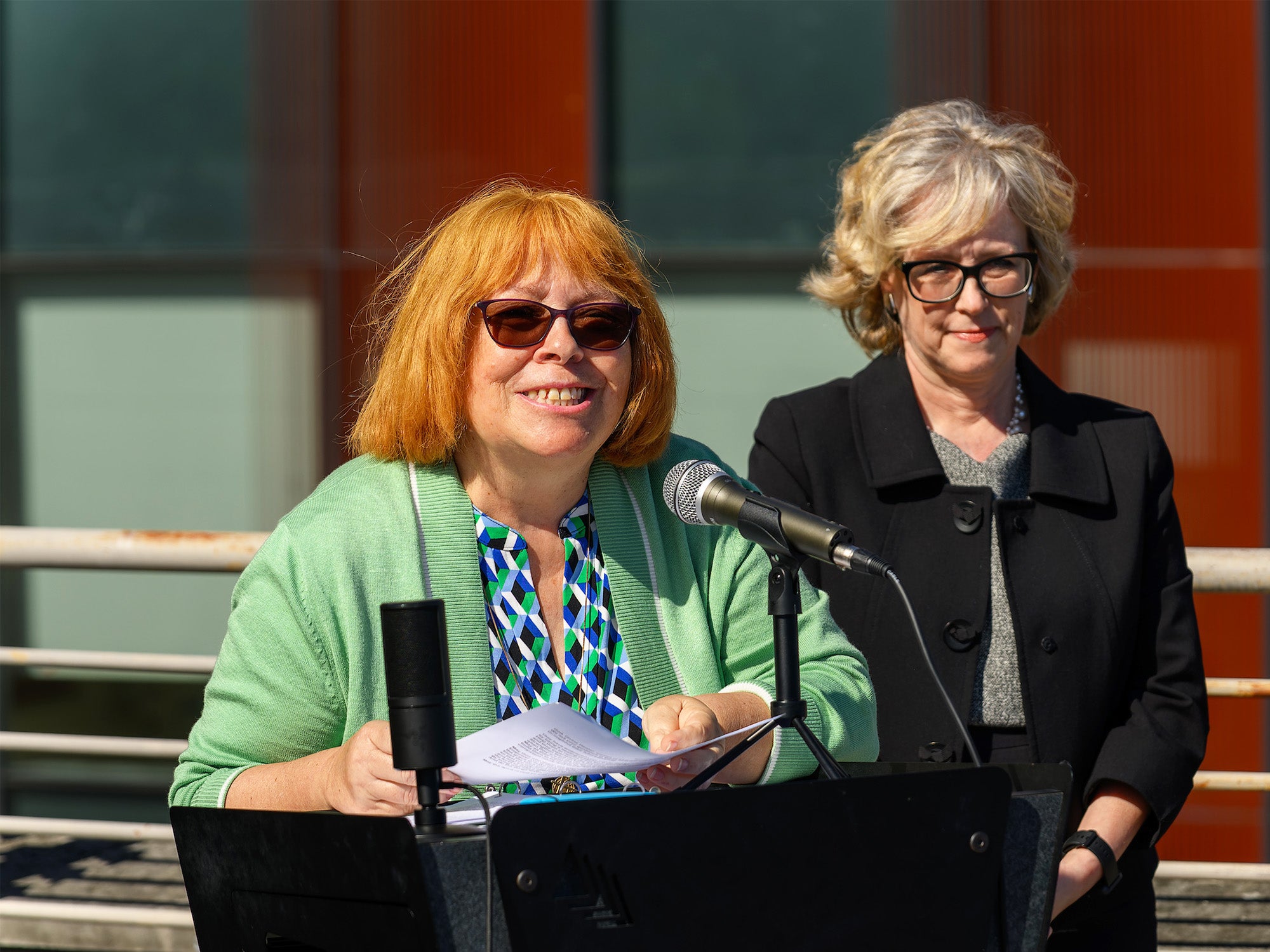 Sr. Celeste Mokryzcki, School of Nursing chaplain, provided the invocation where she encouraged the graduates to be confident and unafraid when confronted with newness that awaited them.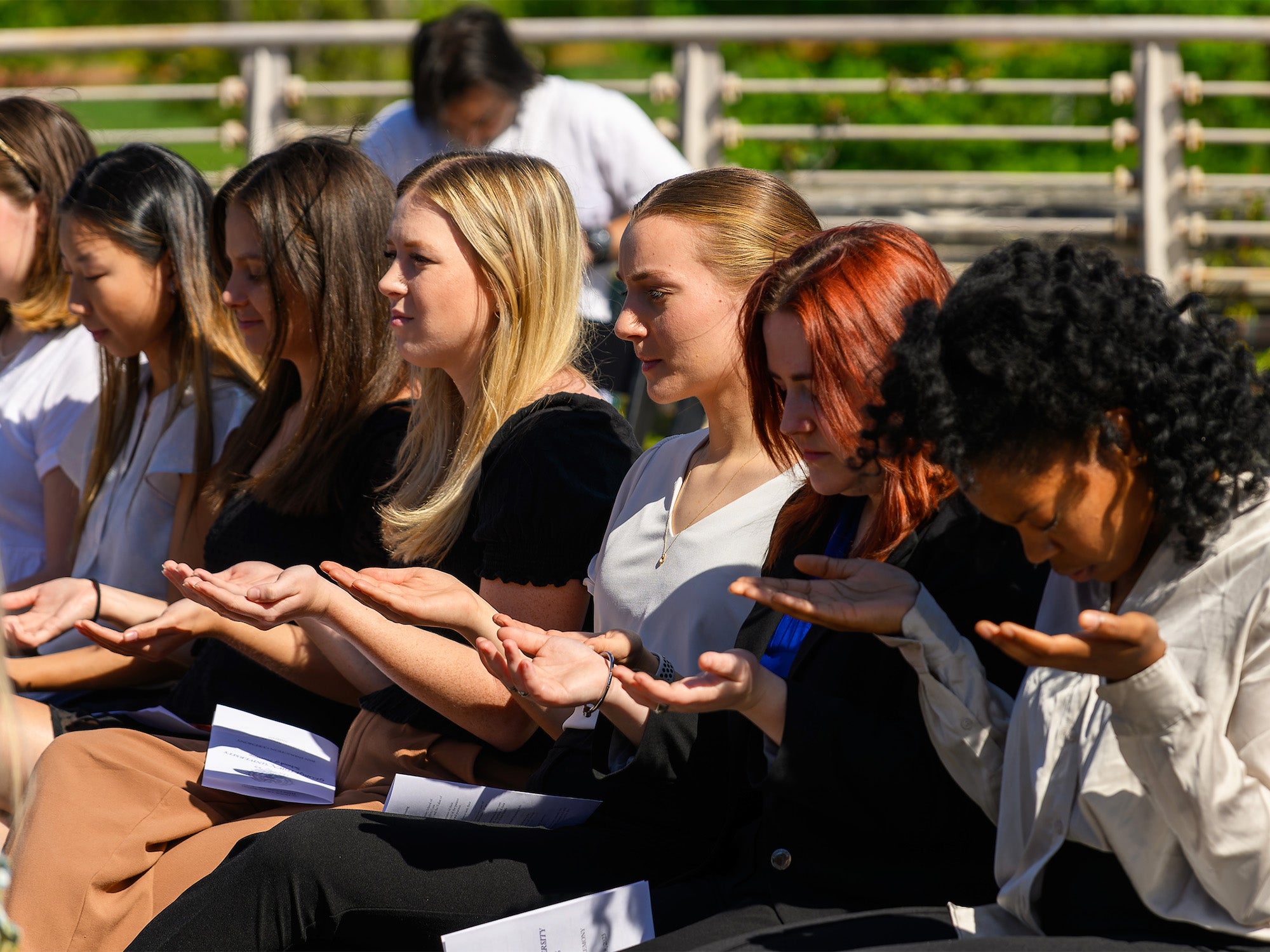 Faculty led the "blessing of the hands," a spiritual moment meant to recognize the importance of the healing touch.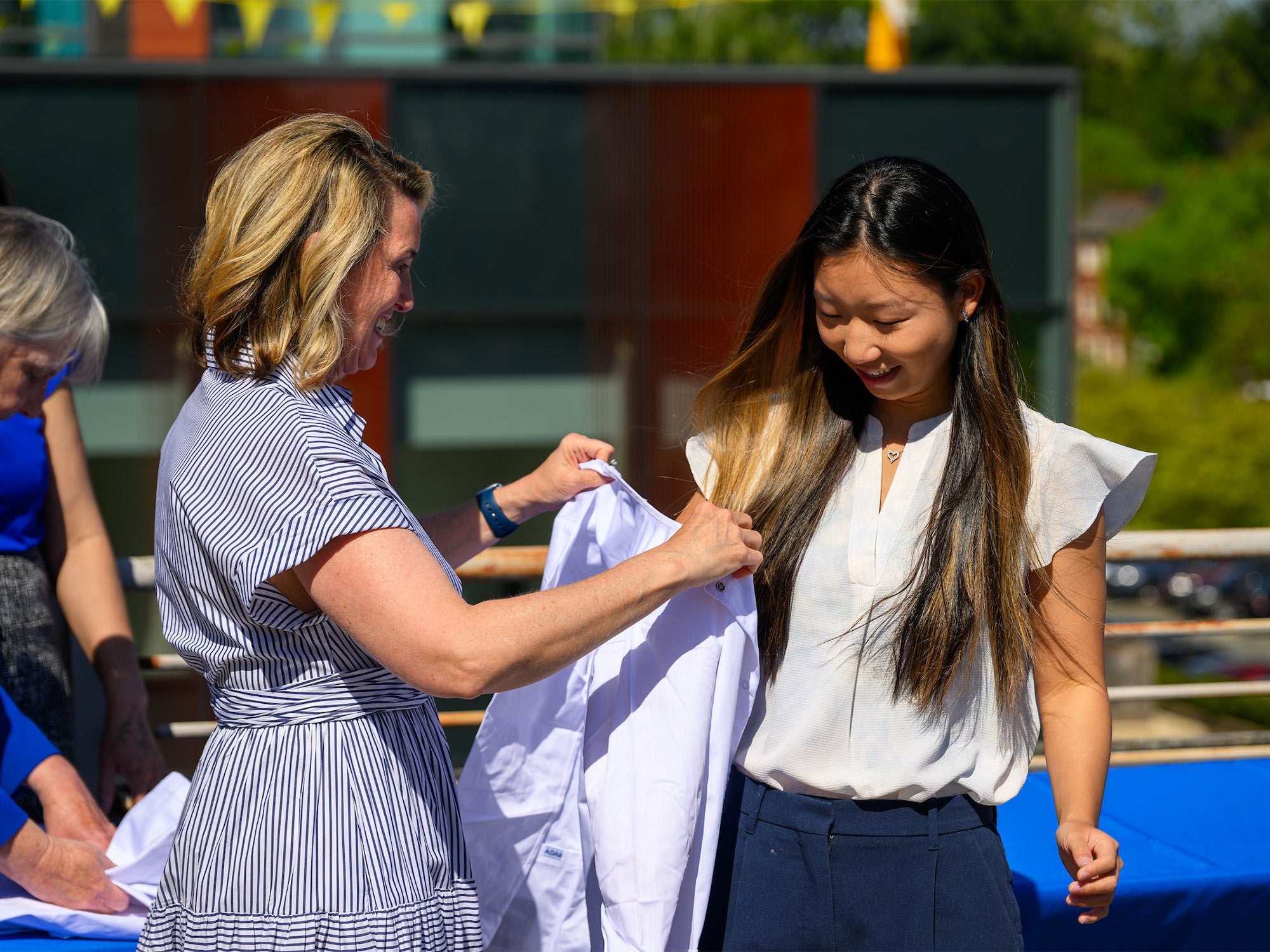 Katie Wang (N'23) donned her white coat.
For the pledge of dedication, students held lit candles to commemorate Florence Nightingale, who worked into the darkness caring for patients. "Your presence, shown through darkness, will bring hope and comfort to those who are suffering," said Sarah Vittone, DBe, MA, MSN, RN, director of the BSN program.
Senior Project Poster Session and Presentations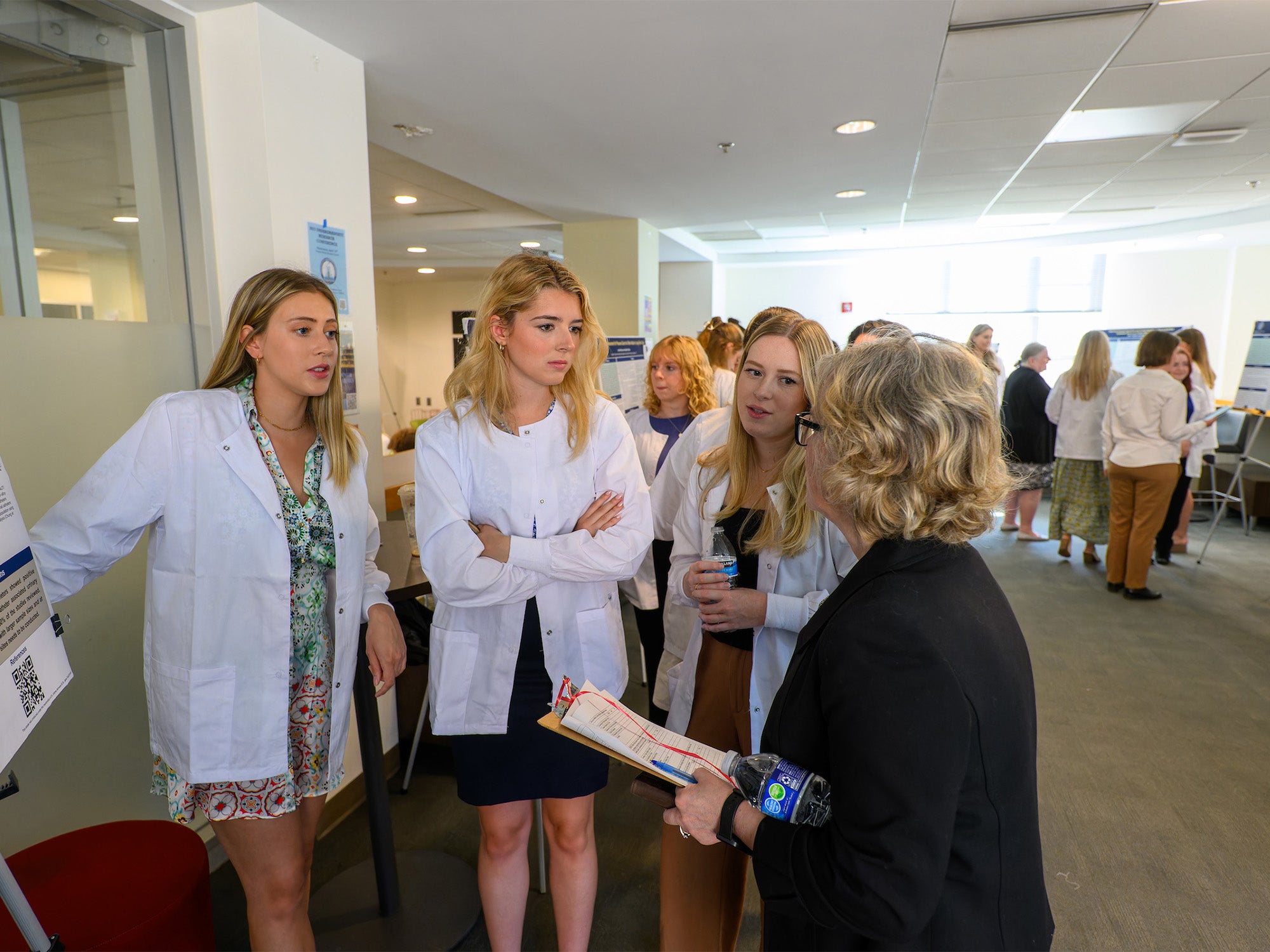 Graduating BSN students gathered in the lobby of St. Mary's Hall to share their research posters.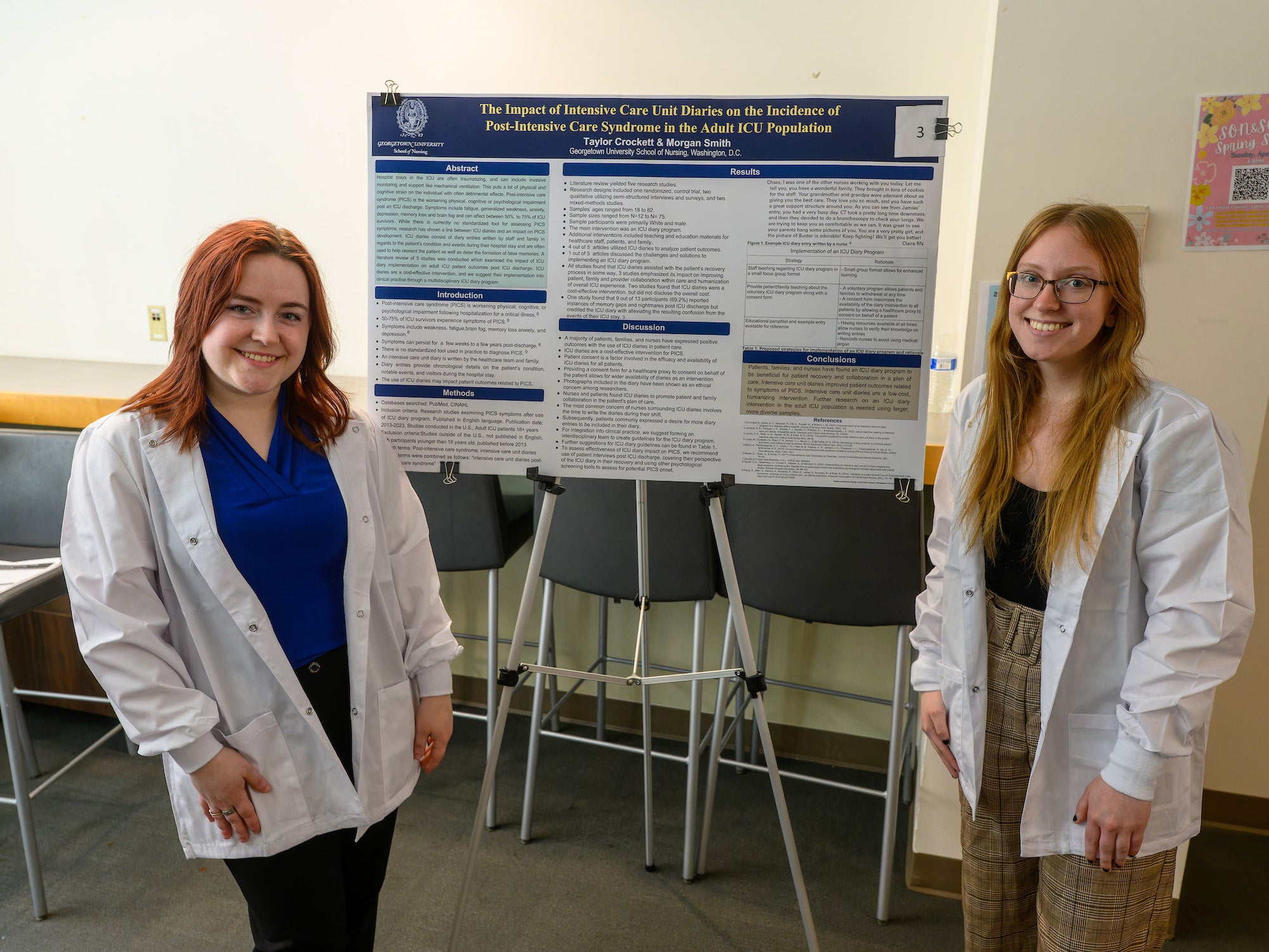 Taylor Crockett (N'23) and Morgan Smith (N'23) worked together on a project investigating the impact of using diaries in the ICU to help patients avoid the incidence of post intensive care syndrome, which is experiencing worsening physical, cognitive, or psychological impairment post ICU discharge. "ICU diaries are such a cost-effective method to improve patient outcomes," said Smith. Crockett explained that the diaries are a collaborative project between nurses, patients, and families describing what transpired during the hospital visit.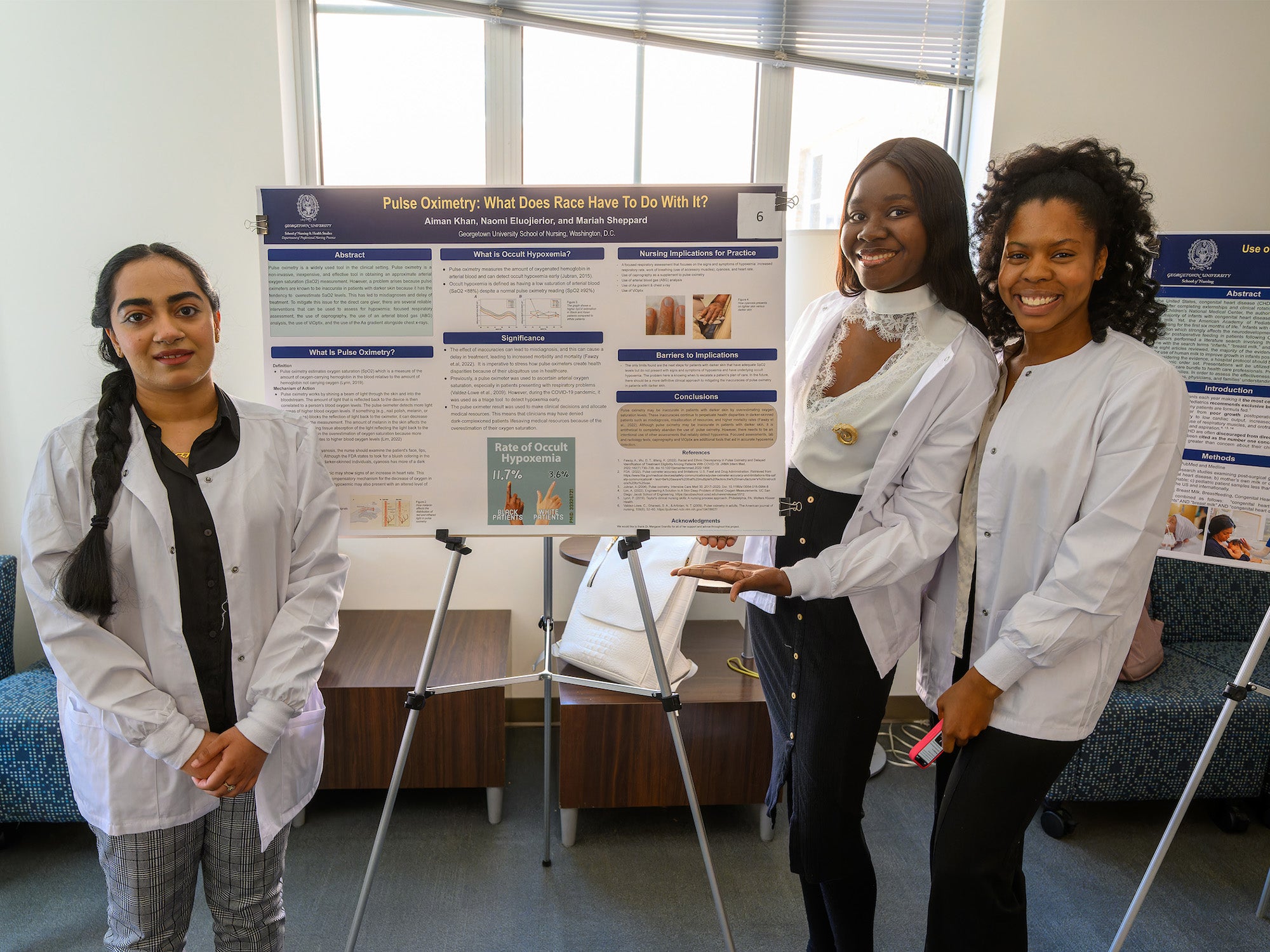 Aiman Khan (N'23), Naomi Eluojierior (N'23) and Mariah Sheppard (N'23) researched the effectiveness of pulse oximetry in patients with darker skin for their poster presentation, titled "Pulse Oximetry: What Does Race Have to Do With It?"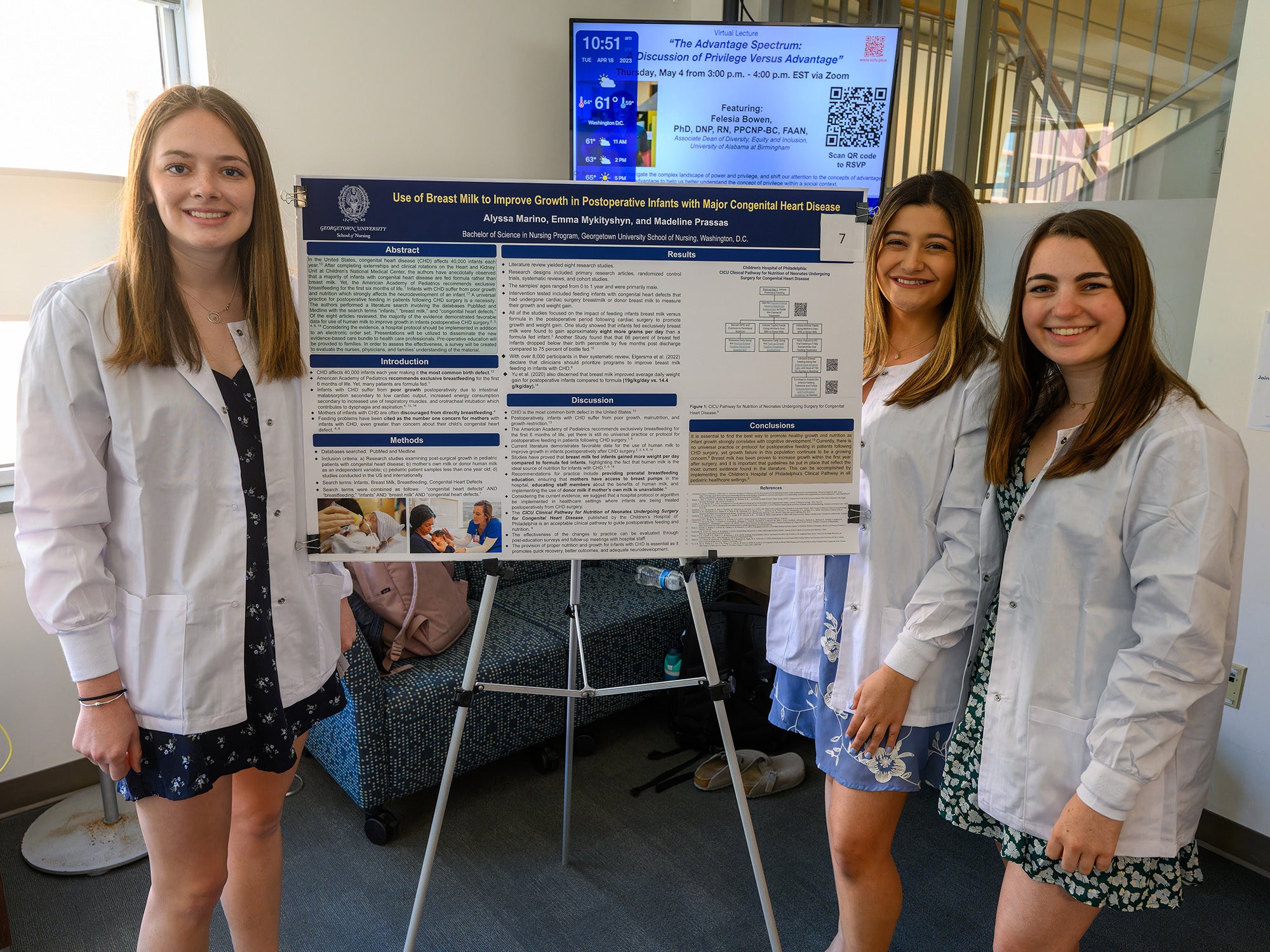 Alyssa Marino (N'23), Emma Mykityshyn (N'23) and Madeline Prassas (N'23) examined the use of breast milk in improving growth in postoperative infants with major congenital heart disease.
Four graduating nursing students in the nursing honors program summarized their final projects in a formal oral presentation including Kimberly Jolie (N'23), Katie Wang (N'23), Karina Han (N'23), and Margarita Sokolenko (N'23). Han, pictured here, interviewed middle-aged African American men for her research project where she found they experienced continuing discrimination and racism when trying to access health care.