Anderson Completes Fulbright Work in Czech Republic
(May 2, 2022) — Kelley M. Anderson, PhD, FNP, CHFN-K, associate professor of professional nursing practice, recently completed her service as a Fulbright Specialist that provided the opportunity to share her expertise through a project developed by the Univerzita Pardubice in the Czech Republic.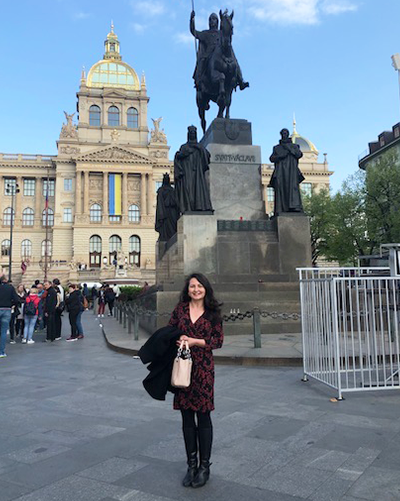 Anderson was awarded the Fulbright honor in 2019. Though the pandemic delayed the in-person start, her work began in the virtual environment in 2020. She left April 17 for the two week in-person part of the project.
The specialist program, which began more than two decades ago, was founded by the U.S. State Department's Bureau of Educational and Cultural Affairs and is a component of the broader Fulbright Program.
"The program pairs highly qualified U.S. academics and professionals with host institutions abroad to share their expertise, strengthen institutional linkages, hone their skills, gain international experience and learn about other cultures while building capacity at their overseas host institutions," the program says, noting its purpose is "to provide a short-term, on-demand resource to international host institutions."
Anderson was asked to advise on the development of faculty and doctoral students for the Czech university's developing International PhD Program.
Anderson returned from the Czech Republic May 1, and we asked her about her work there.
What were the faculty and administrators most interested in learning from your experience?
They were most interested in the process of the development of Georgetown's PhD in nursing program, including the selection of the focus areas. There was also interest about the nursing practice, education and research in the U.S., and the impact of the global pandemic.
What experience at Georgetown was most relevant when you were sharing information?
We have several similar challenges of developing a PhD program, including limited research-focused faculty concurrently with few research-focused faculty who teach at nursing schools without a PhD program.
One of your goals was to establish international collaborations for research-focused doctoral students. What are the next steps for that work?
Next steps are to link faculty and students with colleagues, collaborators and mentors with shared content areas or research methodologies. As we begin to prepare for the start of Georgetown's PhD in Nursing Program in 2023, we are interested in attracting international faculty and students and to provide global opportunities for faculty and students in Georgetown's program.
What was the most rewarding aspect of this collaboration with Univerzita Pardubice in the Czech Republic?
There were several. One was having the opportunity to be with the faculty and nurses in their daily work — across any boundary, we have a shared experience. Another was touring several facilities providing truly holistic approaches to health and well-being, including hospice Chrudim and the Homzova rehabilitation center, which offers all the high-tech gadgets of our time in a beautiful botanical garden setting with therapeutic pools and equine therapy.