Dr. Michele Kane Selected as a Fellow of the American Academy of Nursing
(July 27, 2022) — The American Academy of Nursing (Academy) has selected Michele Kane, PhD, MSN, director of the BSN program and assistant professor of nursing at Georgetown's School of Nursing, as a 2022 Fellow. Induction into the Academy is a significant milestone in a nurse leader's career in which their accomplishments are honored by their colleagues within and outside the profession. Fellows are selected based on their contributions and impact to advance the public's health.
"Following a distinguished military career in the Navy, Georgetown is now the beneficiary of Dr. Kane's exemplary leadership in nursing, and this honor validates her significant contributions to the field," says Roberta Waite, EdD, RN, PMHCNS, ANEF, FAAN, dean of the School of Nursing.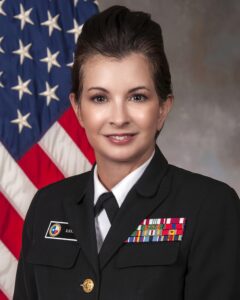 Kane, a retired Navy captain with 36 years of service, is director of the Bachelor of Science in Nursing Program at Georgetown. She is the co-investigator of a 2.5M multi-site clinical trial titled "Military Readiness in Active-Duty Service Women: The Impact of the Availability of Water and Sanitation on Hygiene Practices and Urogenital Health." The purpose of this study is to consider and identify critical research and policy gaps in need of investment and support for successful, evidence-based integration of female warfighters into military combat roles and to optimize their performance.
"It's an honor to be selected as an Academy Fellow and to represent the field as a nurse scientist," says Kane. "I'm equally honored to be a nurse educator with the opportunity to use my experience to influence the next generation of nurses. Whether providing care at the bedside or influencing policy through research, nursing should be grounded in health equity and those are the values we teach at Georgetown."
Kane entered into the Navy in 1986 as a Hospital Corpsman and was commissioned after completing her BSN at Auburn University. She went on to attend the Honors Scholars Master's program at Oxford University where she studied philosophy in health care related to health disparities. She earned her MSN in Nursing Administration from George Mason University and received her Doctorate in Philosophy from the Uniformed Services University.
Notably, Kane was the first Navy nurse to disseminate nurse-driven research to reduce inequities and improve veteran health to approximately 30,000 wounded who retained combat metal fragments in the Iraq/Afghanistan conflict. Her study led to development of the first and only National Veterans Administration Heavy Metals Screening Program for veterans returning from the war. This work informed policy decisions, development and directed laboratory analysis of all surgically excised fragments. Today, this global information remains critical in identifying veterans with internalized metals for referral to Veterans Affairs Toxic Embedded Fragment Center for long-term surveillance.
Prior to joining Georgetown this year, Kane was assistant professor from 2020-2022 within the PhD program at the Uniformed Services University's Graduate School of Nursing. Concurrently, she served as the Senior Navy Advisor to the Uniformed Services University's Dean. In addition, she was the team lead to the Chief of the Navy Nurse Corps specifically identifying the threats and barriers to developing resiliency within the Navy Nurse Corps to over 4,000 active duty and reserve component nurses.
From 2018 to 2020, Kane was the first nurse to assume the position as Executive Officer/Chief Operating Officer of Naval Medical Research Unit San Antonio. From 2016-2018, Kane served as the first Nurse Deputy Chief Medical Officer where she led the massive joint service transformation and enterprise-wide effort to create the new High Reliability Quality and Safety Infrastructure/Model to reduce cost, increase access to care, and transform policy in the Military Health System that serves 9.6 million beneficiaries. (Read more about Kane's career here).
Kane's military decorations include the Legion of Merit, two Meritorious Service Medals, a Commendation Medal, three Naval Achievement Medals with Overseas Service Ribbon, in addition to various research and publication awards, unit and service medals.
Kane was one of 250 individuals selected to be inducted into the Academy following a competitive, rigorous application process. On October 29, she and the other inductees will be recognized for their significant contributions to health and health care at the Academy's annual Health Policy Conference. Once the newest Fellows are inducted, the Academy will be comprised of more than 3,000 leaders from around the world who are experts in policy, research, administration, practice, and academia that champion health and wellness, locally and globally.
Karen Teber
GUMC Communications